First: Mylab gets ICMR nod to 2 minutes self use COVID test kit CoviSelf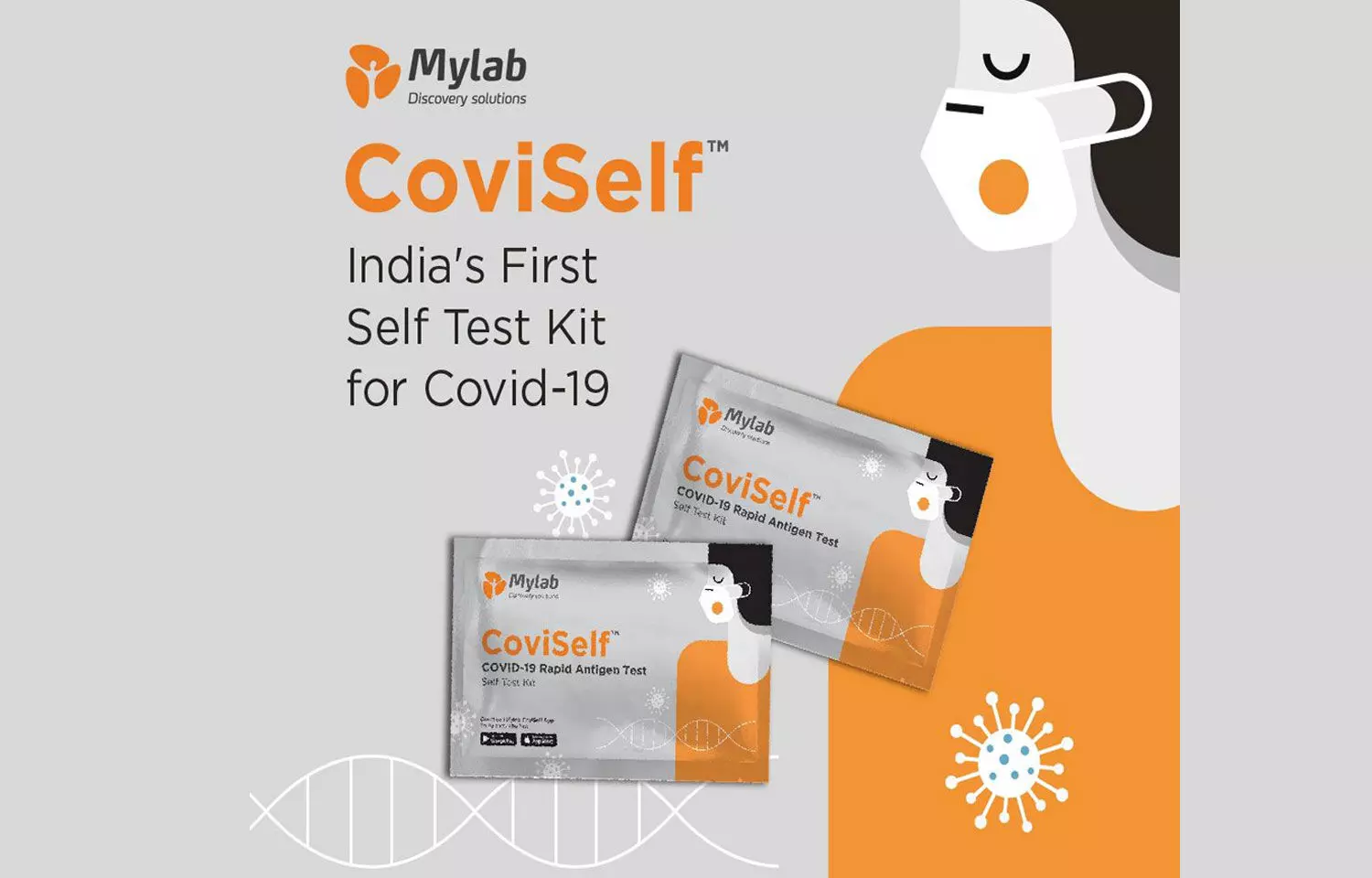 Pune: In a first, Pune-based Mylab Discovery Solutions has bagged a milestone by offering India the self-use Covid-19 test kit, CoviSelf for Rs 250 per pack.

The CoviSelf COVID-19 Rapid Antigen Test is an immunochromatographic nitrocellulose membrane assay that uses highly sensitive antibodies to detect COVID-19 nucleocapsid protein from nasal swab specimens. Coviself (PathoCatch) COVID-19 OTC Antigen LF device follows the principle of rapid antigen test, where a nasal swab sample is tested for the virus and gives results within minutes.
Announcing the launch of the significant product, Mylab tweeted, "Today, Mylab has taken an important and essential step to help India and the world fight the worst pandemic in the history of mankind. A step that will empower every Indian to fight this pandemic. We feel humbled to give India - its first Self-use Covid-19 test kit - CoviSelf."

"It takes two minutes to conduct test and 15 minutes to get result. It will be available by end of next week in more than seven lakh pharmacies and our online pharmacy partners across India. Our target is to reach 90 per cent pin code in India," Sujeet Jain, Director of Mylab Discovery Solutions - the firm that produced the kit - was quoted by news agency ANI.
The home-based Rapid Antigen Test (RAT) kit has been approved by the Indian Council of Medical Research (ICMR). The apex research body has clearly stated that "Home testing by RAT is advised only in symptomatic individuals and immediate contacts of laboratory-confirmed positive cases. Indiscriminate testing is not advised."
Each kit comes with a pre-filled extraction tube, a sterile nasal swab, one test card, and a biohazard bag to safely dispose of after testing. The test is designed to be done using a nasal swab (not the deep nasopharyngeal swab) to reduce the discomfort.

The test kits can be purchased without a prescription from local pharmacies and online channel partners. It is authorized for non-prescription home use with self-collected nasal swab specimens from individuals aged 18 years and older or with adult-collected samples from individuals aged 2 years or older.
The test assembly consists of COVID-19 antibodies immobilized on the membrane as a Test line (T) and control solution specific antibodies immobilized on the membrane as a Control line (C). Besides this, the test strip also contains a buffered sample pad with COVID-19 colloidal gold conjugated antibodies. When the sample (specimen & Lysis buffer mixture) is added to the sample pad of the test device, the sample migrates along with the colloidal gold nanoparticles.

If the sample contains "detectable levels" of COVID-19 antigen, then it reacts with the colloidal gold conjugated antibodies to from the Ag-Ab complex. This complex then migrates to the membrane and reacts with the coated COVID-19 monoclonal antibodies on the test line to form a test band (Test Line). Irrespective of the presence of COVID-19 antigen, a colloidal gold conjugate antibody from the sample pad still moves ahead and forms a complex with control solution-specific antibodies to form the procedural control line.
How to Use the Kit:
As per the ICMR guidelines,
For Negative Test: Symptomatic individuals identified negative by RAT should be linked with the RT-PCR test facility and subsequently get tested by RT-PCR to rule out COVID-19 infection. In the meantime, such individual will be urged to follow home isolation and treatment as a negative report on RAT may not be true negative in some.
For Positive Test: A positive test should be considered as a true positive and does not need reconfirmation by the RT-PCR test.
Further, it is also informed in the guideline to, "Read the instructions before performing the test. All tests should be conducted by individuals with their own consent and completely at own risk, cost and consequences. "
In terms of storage, it is recommended that it be kept at room temperature, out of direct sunlight, and out of reach of children, adding not to freeze any of the test kit components and or to use test device and reagents after the expiration date.
ICMR further advised that home testing should be conducted as per the procedure described by the manufacturer in the user manual.

To access the user manual click on the link below-
ICMR through its advisory has further apprised that the home testing mobile app is available in Google play store and Apple store and must be downloaded by all users. The mobile app is a comprehensive guide of the testing procedure and will provide a positive or negative test result to the patient, it added.
Data transmitted by the phone will be centrally captured in a secure server that is connected to the ICMR's COVID-19 testing portal, where all data will be eventually stored.
The advisory further read,
 All users are advised to click a picture of the test strip after completing the test procedure with the same mobile phone which has been used for downloading the mobile app and user registration.
 Data in the app of your mobile phone will be centrally captured in a secure server that is connected with the ICMR COVID-19 testing portal, where all data will be eventually stored.
 Patient confidentiality will be fully maintained.
 All individuals who test positive may be considered as true positives and no-repeat testing is required.
 All test positive individuals are advised to follow home isolation and care as per the ICMR & Ministry of Health & Family Welfare (MoH&FW) protocol which can be accessed at: https://www.icmr.gov.in/chomecare.html.
 All symptomatic individuals who test negative by RAT should get themselves immediately tested by RTPCR. This is especially important as the RATs are likely to miss few positive cases presenting with a low viral load.
 All RAT negative symptomatic individuals may be treated as suspect COVID-19 cases and are advised to follow the ICMR/MoH&FW home isolation protocol while awaiting the RTPCR test result.
 All results may be interpreted as per the protocol laid down by the manufacturer in the user manual (pictorial and video link of the user manual is provided below against the name of the approved test kit).
 Manufacturer's instructions must be strictly followed for disposal of the test kit, swab and other materials.
Meanwhile, Hasmukh Rawal, Managing Director of Mylab Discovery Solutions told Business Today, "With CoviSelf, we are sharing the power of testing early with the citizens. It will save thousands of lives. For India, we will make millions of kits available at fraction of the cost of such kits in the US."
"Most western countries have allowed self-test for their citizens and consider it as a powerful tool to break the chain. This easy-to-use test combines with Myab's AI-powered mobile app so that a user can know his/her positive status, submit the result to ICMR directly for traceability, and know what to do next in either case of result. We are sure this small step will be a big leap in mitigating the second and subsequent waves," Sujit Jain, Director at Mylab added.
The company will start shipping out tests within a few days. Mylab current production capacity is 70 lakh tests per week and plans to increase its capacity to 1 crore tests per week within 14 days.
Source : with inputs