JB Pharma forays into Statin segment, acquires Razel franchise from Glenmark for Rs 314 crore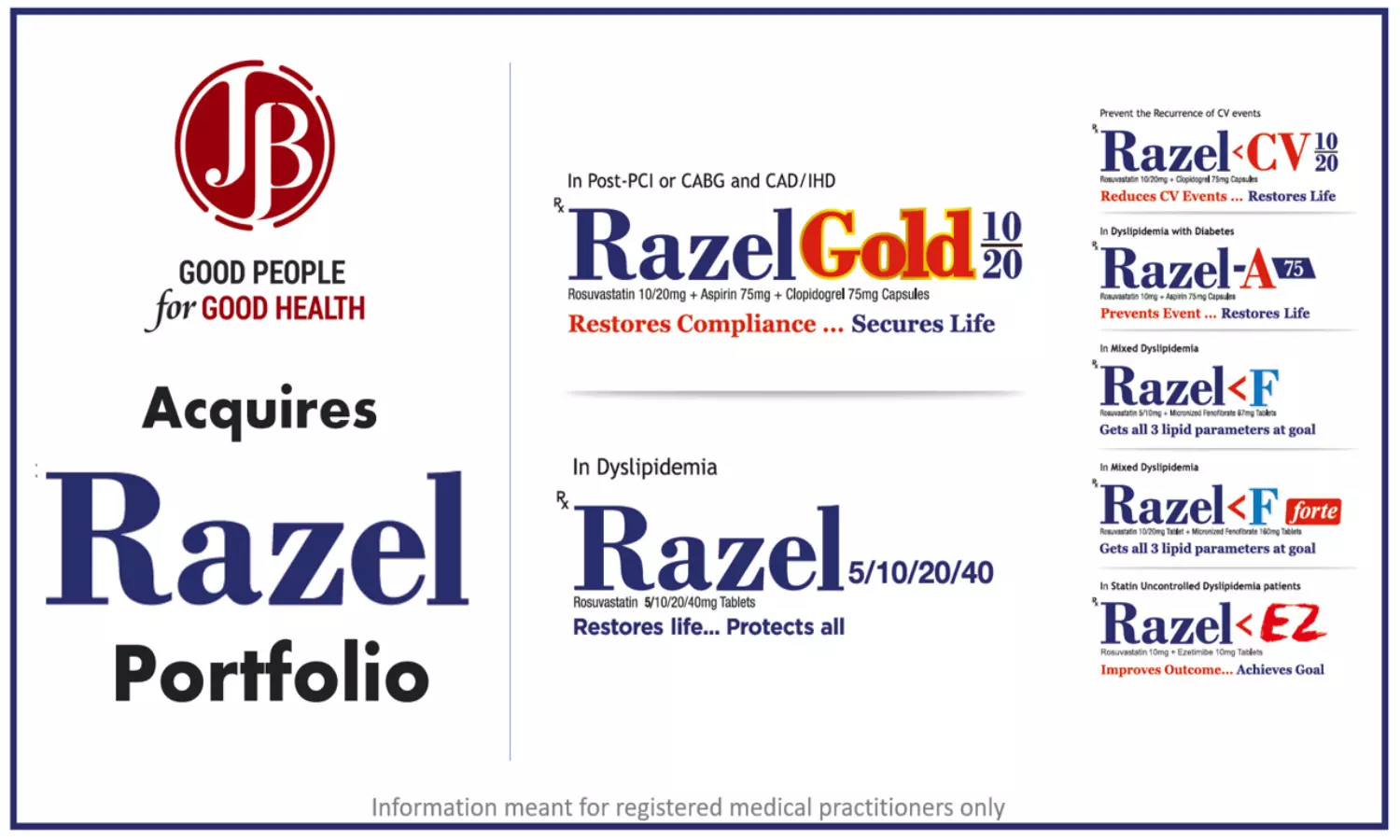 New Delhi: JB Pharma, one of the fastest growing pharmaceutical companies in India, has entered into an agreement with Glenmark Pharmaceuticals Ltd., to acquire the entire Razel (Rosuvastatin) franchise for the India and Nepal region for a whopping Rs. 314 crores.

With this acquisition, JB Pharma will complete its cardiac portfolio making it a leader in this segment, as Razel ranks among the top 10 brands in the Rosuvastatin molecule category in the country. These brands are focused on the cardiac segment in India and Nepal with a total covered market size of INR 2,444 crores as per IQVIA MAT Oct '22 numbers.
Commenting on the acquisition, Mr. Nikhil Chopra, CEO & Whole Time Director, JB Pharma said, "We are glad to announce the acquisition of the Razel (Rosuvastatin & combinations) franchise, thereby marking JB's expansion into Statins, which is the largest therapeutic segment in cardiology. With this addition, we now have established a strong position in statins besides being among the leaders in Hypertension and Heart failure – all the fastest growing therapeutic indications in cardiology."
He further added, "We see good growth potential from the acquired brands. This acquisition will help us leverage our existing Go-To-Market model focussed for this segment and further strengthen our chronic portfolio."
Read also: JB Pharma slashes price of critical Heart Failure medicine AZMARDA (Sacubitril-Valsartan) by nearly 50 percent

J.B. Pharma, established in 1976, is one of the fastest-growing pharmaceutical companies in India and a leading player in hypertension and the heart-failure segment. Besides its strong India presence, which accounts for majority of its revenue, its other two home markets are Russia and South Africa. In India, the company has five brands among the top 300 IPM brands in the country. The company exports its finished formulations to over 40 countries including the USA. Besides supplying branded generic formulations to several countries, it is also a leader in the manufacturing of medicated lozenges. The company ranks among the top 5 manufacturers globally in medicated and herbal lozenges. It has seven state-of-the-art manufacturing facilities in India including a dedicated manufacturing facility for lozenges. The manufacturing facilities are certified by leading regulators across the world. M.Com
Ruchika joined Medical Dialogue as an Desk Editor for the Business Section in 2019. She covers all the updates in the Pharmaceutical field, Policy, Insurance, Business Healthcare, Medical News, Health News, Pharma News, Healthcare and Investment. She has completed her B.Com from Delhi University and then pursued postgraduation in M.Com. She can be contacted at editorial@medicaldialogues.in Contact no. 011-43720751