NHRC Notice to Tamil Nadu Over Shortage of Doctors in Govt Hospitals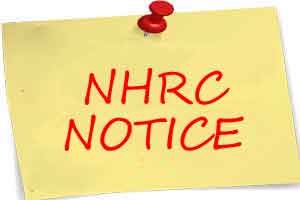 The National Human Rights Commission (NHRC) has taken suo motu cognizance of a media report about the plight of patients due to the shortage of doctors in Government Hospitals of Tamil Nadu, wherein out of 7 crore population, 80% depend upon the Government hospitals for treatment.
Reportedly, going by the Medical Council of India (MCI) regulations and the recommendations of World Health Organisation (WHO), one lakh doctors are required as against 18,000 working in the State. The non-availability of the doctor results in thousands of patients waiting in queue every day. Even for a surgery, patients have to wait for months leading to a situation of confrontation and clashes among them and medical and para-medical staff.
Expressing serious concerns over the situation, the Commission has issued notices to the Chief Secretary and Health Secretary, Government of Tamil Nadu calling for a report within 8 weeks on the following points:-
1. Total number of hospitals run by the Government and functioning in the State of Tamil Nadu including Hospitals and health care facilities at District Headquarters, Taluk, Primary Health Centre etc
2. Total sanctioned strength of doctors and para-medical staff in all the Government hospitals and health care facilities.
3. Number of vacant posts of doctors and paramedical staff.
4. Steps taken by the Government to address the issue of shortage of doctors and para-medical staff in all the Government Hospitals and health care facilities.
The Commission has observed that the contents of the media report, carried on the 5th June, 2017, are disheartening. The right to health is integral to right to life and dignity guaranteed in the Constitution. The State would be failing in its duty and responsibility, if it does not provide timely and qualitative health care to people, which it can make possible by providing the required number of doctors and para-medical staff. The Commission has also observed that it understands the physical and mental stress to the doctors and para-medical staff working with depleted strength.