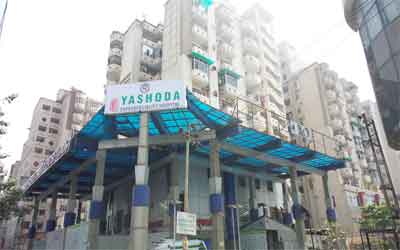 Ghaziabad: Local Police authorites have lodged an FIR against three medical practitioners associated with  Yashoda Hospital in Kaushambi, in a case of Cheating and Extortion against a patient. The said action comes in a case that happened 9 months back where an ex-serviceman was admitted to the hospital and relatives were asked to purchase medical items.
"An FIR is lodged against three doctors for cheating and extortion. No arrests have been made so far. Our investigation is continuing," Salmantaj Patil, superintendent of police (city), told HT.
The case goes back to nine months prior when a retired air force officer came to the hospital in acute kidney failure. His relatives alleged the hospital denying cashless treatment under the scheme, and asking them to purchase the medical items for the said treatment.
"His treatment had to be cashless under ECHS but we were asked to buy items for treatment. I bought items worth over Rs12,000. When I confronted the hospital authorities about this, they told me to buy injections as well, on the basis that it was also not covered under the scheme," Amit Tyagi, son of Yeshvir, of Sector 6 in Vaishali said.
"Ultimately, I complained to the managing director, ECHS and my father's dialysis was done cashless that night. Otherwise, they were insisting that I buy items worth Rs 16,000. Next morning, they told me that my father was having multiple organ failures and I should take him to a hospital with better facilities. They virtually expelled my father as I had complained about them. They refused me an ambulance as well and asked me to hire a private one," Amit said.
He said that the hospital authorities cheated them by charging them for items they were not supposed to.
"When I shifted to the other hospital, it was found that my father did not have multiple organ failure. After my father was shifted from the ICU to a ward, I complained to the Prime Minister's Office, UP chief minister, the health minister, ECHS and also posted about this on Facebook, which went viral with more than 15,000 shares," Amit said.
IANS reports that the FIR was registered after the Ghaziabad Chief Medical Officer (CMO) submitted its report against the hospital on the instruction of Uttar Pradesh Chief Minister Akhilesh Yadav's office (CMO) from Lucknow. The report supports the officer's allegations of cheating and extorting money."It seems that the patient was referred to another hospital due to the patient's complaint regarding charging of payments in violation of ECHS rules to provide cashless treatment," the CMO's report states.
 Dr PN Arora, the managing director of Yashoda Hospital, confirmed about the FIR to
HT
stating, "The three (accused) are doctors with our hospital. The patient was given cashless treatment but there were certain minor non-admissible expenditures which the patient's family was told to take care of. His father was admitted to the ICU and treated."
"I came to know that the patient had a severe infection that affected other body parts. Getting the patient referred to another hospital is the right of his family. There has been an issue over nothing. However, since an FIR is lodged, we will abide the legal course of action," he said.
2 comment(s) on Noida: FIR against 3 Yashoda Hospital doctors for cheating, extorting patient