Not Prescribing Generic Drugs will invite Disciplinary Action: Maharashtra Medical Council tells Doctors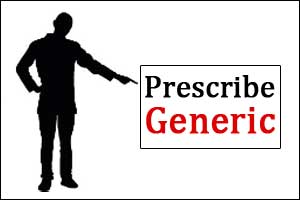 Mumbai: Taking the issue of generic and legible prescriptions by allopathic medical practitioners, the Maharashtra Medical Council was recently seen reiterating the MCI amendments on the issue and adding that not following the MCI norms on the issue will bring disciplinary action.
Through a notice signed by Dr Dilip Wange, Registrar, Maharashtra Medical council, the council was seen directing all allopathic medical practitioners  to issue generic prescriptions only
The state council reiterated  the clause 1.5 of the Indian Medical Council (Professional Conduct, Etiquette and Ethics) Regulations, 2002 that has been amended in 2016 and notified in the Gazette of India on 21/09/2016, which reads as under:-
"1.5 - Use of Generic names of drugs: Every Physician should prescribe drugs with generic names legibly and preferably in capital letters and he/she shall ensure that there is a rational prescription and use of drugs."
All the Registered Medical Practitioners under the IMC Act are directed to comply with the aforesaid provisions of the Regulations without fail.
The notice also added that not following the regulations will bring disciplinary action from the council.
"You are requested to give wide publicity of the above regulation to ensure that all the doctors practicing medicine under your jurisdiction comply with the regulation."

All concerned are once again urged to take necessary steps for observance of the aforesaid provision of the Indian Medical Council (Professional Conduct, Etiquette and Ethics) Regulations, 2002 in its letter and spirit.

For any doctor found violating clause 1.5 of Ethics Regulation, suitable disciplinary action would be undertaken by the concerned SMC/MCI
Read Also: 
Prescribe only Generic Drugs or Face Action: MCI - Medical Dialogues