AIIMS Nursing Officer 2019: Merit list released, panel to upload documents now open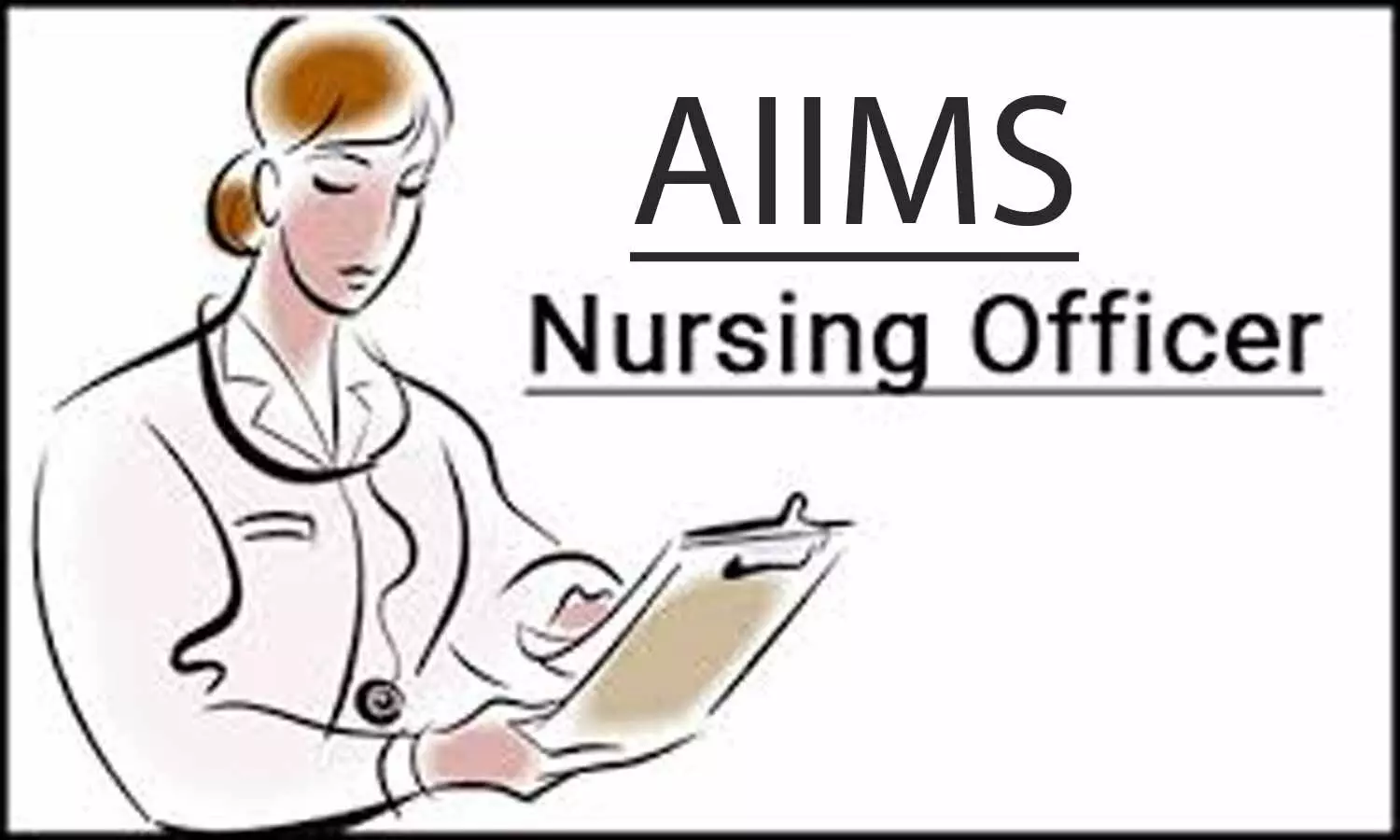 New Delhi: Through recent notifications, the All India Institute of Medical Sciences (AIIMS) has released the merit list for the recruitment of nursing officer vacancies and has informed regarding the activation of the panel for the concerned candidates to upload their required documents.
This merit list contains all candidates who have been found to have qualified (to the extent of three times of number of advertised Seats) against the number of vacancies in each category mentioned in the vacancy notice published in the leading Newspapers dated 01st August 2019; Corrigendum uploaded on 4.8.2019 as well as Scheme of Examination uploaded vide notice no. 72/2019 dated 23.8.2019 for AIIMS, New Delhi.
The merit list is attached below:
https://medicaldialogues.in/pdf_upload/pdf_upload-130964.pdf

Important:

1. This is the overall merit list of all qualified candidates in each category (to the extent of three times of the number of advertised Seats) amongst those have appeared in the Online CBT mode Examination on 15.09.2019.
2. This overall merit list (to the extent of three times of the number of advertised Seats) is being provided to Recruitment Cell for further course of action at their end. It will be the prerogative of the Recruitment Cell, AIIMS, New Delhi to use / not use this merit list.
Meanwhile, the panel to upload documents for E-Document Verification will be open from 27.06.2020 to 10.07.2020 (upto 05.000 PM) for Nursing Officer-2019 of AIIMS, New Delhi.

Only candidates as per list attached hereby are allowed to upload the required documents on the AIIMS website www.aiimsexams.org. Candidate should log in to their My Page using login credentials used for Registration to upload the required documents.
List of Documents to be uploaded online document, as the case may be( Scanned image of original certificates should only be uploaded)
1. For proof of Date of Birth: Birth Certificate or Class Xth(Matriculation) certificate showing the date of birth(anyone).
2. For proof of educational qualification- Original/ Provisional degree/diploma/ certificate, as the case may be along with proof of date of declaration of result/issue of the certificate.
3. Registration Certificate as Grade"A" Nurse from State/Indian Nursing Council.
4. Experience Certificate/s in case of diploma(GNM) holders clearly indicating a number of beds of hospital/period of experience.
5. No Objection Certificate - Candidates presently employed in PSUs/Central/State Govt./PSBs/Autonomous Bodies required to upload NOC from their present employer.
6. Valid Caste certificate for candidates who have applied under SC/ST/OBC/EWS category, as per instructions of Govt. of India/DoPT on the subject. Candidate applied under reserve category must have the valid caste certificate and the certificate must be valid for employment in Central Government of India.
OBC certificate/ Non-Creamy layer certificate, in English/Hindi, in the format provided by the DoPT vide OM No. 36036/2/2013-Estt.(Res.) dated 30.5.2014 and further clarification issued by DoPT OM No. 36036/2/2013-Estt.(Res.I) dated 31.3.2016 for appointment to the posts under GOI/ Central Government is required.
Vacancies were advertised in the financial year 2019-20, therefore, valid NCL-OBC certificate issued during the period from 1.4.2019 to 31.3.2020 will only be considered valid. OBC candidate's eligibility will be based on castes borne in Central List of OBC, failing which their candidature as OBC candidate will not be considered OBC Certificate should clearly show that the applicant does not belong to the Creamy Layer.
The Vacancies advertised under EWS Category are as per the instructions issued by DoPT, Ministry of Personnel, Public Grievances and Pension, Govt. of India, vide OM. No. 36039/1/2019-Estt(Res), dated 31.01.2019. Candidature under EWS category will be considered subject to the submission of Income and Assets certificate on a prescribed format issued by the competent authority and subject to verification of the authenticity of the certificate by the issuing authority. As per DoP&T OM No .36039/1/2019-Estt(Res), dated 31.01.2019, the crucial date for submitting income and asset certificate by the candidate is the closing date for receipt of the application for the post, except in cases where the date is fixed otherwise. therefore, valid EWS certificate will be the only one which has been issued by the competent authority as prescribed by the GOI/DOPT, on or before the last date of submission of online application i.e. 21.8.2019. Candidature who fail to produce valid EWS candidate must not be considered for reservation under this category. Therefore, EWS candidate must ensure that they have a valid EWS certificate on or before the last date of submission of application.
The AIIMS, New Delhi reserves the right to disallow a candidate, in case the caste certificate is found to be invalid. If the caste certificate/disability certificate is in vernacular language, an English version of the same duly attested by the Gazetted Officer or a person holding equivalent rank must be uploaded.
7. Physically handicapped certificate showing the extent of disability from authorised/competent authority.
8. Copy of Registration slip and Admit card showing signature of the candidate.
9. Copy of photo Identity Card issued from any Government Authority.
10. Photograph(as per specification)
11. Signature(as per specification)
12. Right Thumb Impression(as per specification)
13. Standard Declaration(Form-A) as given below
No claim of the candidates will be entertained later who fail to upload the above-mentioned documents online in the portal. in the e-dossier module and non-uploading of the required documents may result in cancellation of candidature for which the candidates themselves will be squarely responsible.
More uploading documents in the portal does not confer them any right to the post. Final Selection will be made purely on the basis of merit against the notified vacancies provided the candidate fulfils all the required eligibility conditions.
It is reiterated that the candidates who fail to upload their documents on or before the stipulated date will not be given any further opportunity and their candidature will stand cancelled. Failure to load image/ electronic file of original certificate will lead to cancellation of candidature. Production of the original document later to claim restoration of candidature will not be entertained.
Now after exclusion of earlier selected candidates, the names 62 candidates attached in the link below will be considered against unreserved category:
https://medicaldialogues.in/pdf_upload/pdf_upload-130972.pdf