Obese women with sleep apnea have high risk of gestational diabetes: Study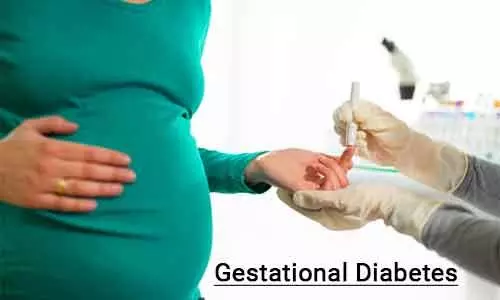 A recent study found that there was a high prevalence of obstructive sleep apnea in obese women and they developed gestational diabetes in pregnancy. The study was published in the journal, "PLOS ONE" 2020.
Obstructive sleep apnea (OSA) is a highly prevalent disease affecting nearly half of the population. Obesity is one of the risk factors for the development of Obstructive sleep apnea. Apart from Obstructive sleep apnea, obesity in pregnant women is associated with an increase in pregnancy-related complications like preeclampsia, pregnancy-related hypertension, and gestational diabetes. Even though Obstructive sleep apnea has been studied often, less is known about its effects on pregnant women. The underestimation and underdiagnosis are because of the nonspecific clinical symptoms during pregnancy. Hence Ghesquière et al from the University of Lille, Lille, France conducted a study to define the prevalence of OSA in a population of obese pregnant women and to assess its obstetric consequences and define its risk factors in this population.
Also Read:Abaloparatide decreases fracture risk in women with osteoporosis, finds study

The study was a single-center prospective study conducted at the Lille University Hospital from 2010 to 2016. Participants were pregnant women with a body mass index (BMI) > 35 kg/m2. All the participants underwent polysomnography (type 1 sleep testing) between 24 and 32 weeks of gestation to diagnose OSA. Clinical, obstetric, and fetal data were collected monthly and at delivery. The comparison was done between the groups with and without OSA and its prevalence was calculated.
The key findings of the study were:
• This study included 67 women with a mean BMI of 42.4 ± 6.2 kg/m2.
• Among them, 29 had OSA, for a prevalence of 43.3%; it was mild or moderate in 25 women and severe in 4.
• A comparison of the two groups showed that women in the OSA group were older, had chronic hypertension more frequently, and had a higher mean BMI.
• During pregnancy, they developed gestational diabetes more often (48.3% vs 23.7%, P = .04).
• No significant differences were observed for any of the other criteria studied.
Thus, the researchers concluded that the prevalence of OSA was high in obese women and such women developed gestational diabetes during pregnancy more often. They also added that no other obstetric complications were observed.
To read more, click the following link: https://doi.org/10.1371/journal.pone.0238733
Source : PLOS ONE