Abaloparatide decreases fracture risk in women with osteoporosis, finds study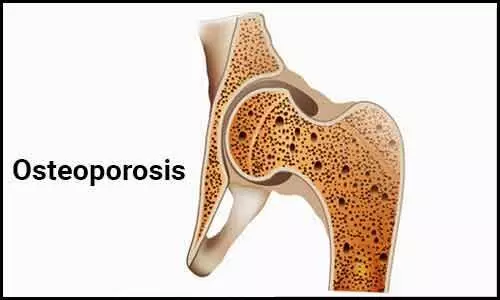 According to a recent study abaloparatide (Tymlos, Radius) has been shown to increase the bone mineral density of the lumbar spine, total hip, and femoral neck bone in patients with osteoporosis who are at high risk for fracture.

The findings have been put forth in the American Society for Bone and Mineral Research (ASBMR) annual virtual meeting.
At present, the mainstay of osteoporosis treatment is the use of oral and iv bisphosphonates. These drugs act by suppressing bone resorption but also decrease bone formation.
Abaloparatide (formerly known as BA058) is a novel synthetic peptide analog of PTH-related protein that was selected to retain potent anabolic activity with decreased bone resorption, less calcium-mobilizing potential, and improved room temperature stability.
Researchers had designed an 18-month long phase three study, called the ACTIVE-J trial, which included 206 Japanese patients (age >55 years; 186 postmenopausal women) with osteoporosis and high risk of fracture. Participants were randomly assigned to receive daily subcutaneous injection of abaloparatide or placebo.

The results put forward the following key facts.
Lumbar spine bone mineral density increased 16.33 percent in the abaloparatide group and 3.78 percent in the placebo group after 18 months (p<0.001).
For the secondary outcomes, total hip bone mineral density increased by 4.66 percent and 0.91 percent, respectively, while femoral neck bone mineral density increased by 5.13 percent and 0.45 percent, respectively.
Meanwhile, abaloparatide rapidly and markedly increased serum PINP with a gradual and less prominent increase in C-terminal telopeptide (serum CTX).
No new vertebral fractures occurred in the abaloparatide group compared with 4.3 percent of the placebo group.
The incidence of new non-vertebral fractures was 2.2 percent and 2.9 percent, respectively.
The team further carried out a dual-energy X-ray absorptiometry (DXA) using the same data of the ACTIVE-J trial.The results showed potential improvement in DXA-based hip structural analysis indices at the femoral neck and intertrochanter region with abaloparatide compared with placebo at 18 months.
"These improvements in hip bone geometry and microstructure suggested that bone strength was also improved by abaloparatide".said the authors.
For the full article follow the link: Abaloparatide, A Novel Selective Agonist for PTH/PTHrP Receptor, Effectively Improved Hip Geometry, and Biomechanical Properties Assessed by Hip Structural Analysis in Elderly Osteoporotic Patients - Results of the Japanese Phase 3 Trial (ACTIVE-J). Teruki Sone. September 11. ASMBR 2020 Annual Meeting Virtual Event.
Source : American Society for Bone and Mineral Research (ASBMR)