Metformin effectively treats clinical, hormonal and biochemical changes in PCOS: Study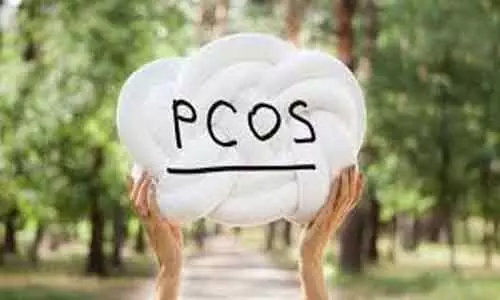 Polycystic ovary syndrome (PCOS) is a complex endocrine condition that affects women of reproductive age. The presence of any two of three features; hyperandrogenism (clinical or biochemical), ovulatory dysfunction (often manifested by menstrual irregularities), and polycystic ovarian morphology (PCOM) by ultrasound is defined as PCOS by the Rotterdam Consensus.

PCOS is characterized by biochemical and clinical features of menstrual irregularities, excess androgen levels (hirsutism and acne), and polycystic morphology of the ovaries. A high prevalence of impaired glucose tolerance and insulin resistance, which are drivers of type 2 diabetes mellitus (T2DM), is commonly seen in women with PCOS. About 40%-50% prevalence of the metabolic syndrome is seen in women with PCOS, compared with the general population. Infertility, increased body weight, endometrial cancer, and an increased risk of cardiovascular disease (CVD) are another spectrum of complications associated with PCOS.
A member of the biguanide family, metformin is with proven safety and efficacy that has been proposed drug for PCOS treatment. Restoring ovulation, reducing weight, reducing circulating androgen levels, reducing the risk of miscarriage, and reducing the risk of gestational diabetes mellitus are some of the good deal of effects of metformin in PCOS.
Mondal and Sarkar carried a study aimed to provide the efficacy of metformin on clinical profile and metabolic disorders in women with PCOS attending a tertiary care setting. It was a prospective observational study conducted on 100 women with polycystic ovarian syndrome, attending department of gynaecology in a tertiary care setting and were divided into two group of 50 each. Metformin was used in 50 patients for one year. Rest 50 patients were advised about diet control and exercise. The parameters like body mass index (BMI), weight, hormonal imbalance, ovulation, and menstrual changes were analysed in both groups.
RESULTS
All 100 participants were included in the final analysis, where 50 were in group A (metformin), and 50 were in group B (exercise and diet modification).
No significant difference was noted in mean BMI and weight before and after treatment between the study group (p Value>0.05), while there was a significant mean difference for parameters like fasting insulin, testosterone, LH, and LH: FSH (p Value<0.05).
In the proportion of hirsutism and acne, a significant difference was not seen before and after treatment between the study group (p Value>0.05).
There was no statistically significant difference observed in the proportion of ovulation, before and after treatment, between the study group (p Value>0.05) but the proportion reduced to 15 (30%) in the metformin group.
Present study showed the findings of metformin efficacious in treating PCOS. A statistically significant difference was seen after one year of treatment with metformin in the study group with respect to reduction in BMI to ≥25 kg/m2, normal baseline glucose levels, increased menstrual regularity, and improved androgen profile. In the majority of women that subsequently remained on therapy, and overall beneficial steady state was observed at three months follow up.
"Testosterone levels reduced by 20%–25% in women who were using metformin for PCOS. In comparison with the women in whom androgens remained unchanged or increased, women in whom androgens decreased had the worst androgen profile at baseline. It is considered that metformin reduces testosterone levels by lowering hyperinsulinemia."
Marked reduction in LH and insulin by metformin in our cases was a very significant observation. Metformin produces minimal changes in hirsutism and has the potential to alter the function of ovulation-inducing drugs. Clinical, hormonal, and biochemical changes in polycystic ovarian syndrome may effectively be treated by metformin.
Source: Mondal and Sarkar / Indian Journal of Obstetrics and Gynecology Research 2021;8(2):188–193
https://doi.org/10.18231/j.ijogr.2021.040
Source : Indian Journal of Obstetrics and Gynecology Research