Management of Male Breast Cancer: ASCO Guideline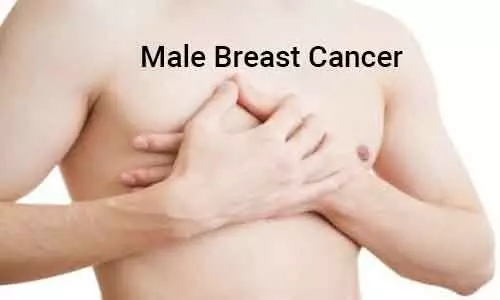 American Society of Clinical Oncology has released its new recommendations concerning the management of male breast cancer. Many of the management approaches used for men with breast cancer are like those used for women. The guidelines have been published in the Journal of Clinical Oncology.
This formal consensus ASCO guideline provides practice recommendations on a range of aspects related to the management of male breast cancer, including endocrine therapy, targeted therapy, genetic testing, management of treatment-related adverse effects, and post-treatment surveillance.
Male breast cancer is a rare disease representing < 1% of all breast carcinomas diagnosed in the United States each year. The lifetime risk of breast cancer is about 1:1,000 for a man, whereas it is approximately 1:8 for a woman. Breast cancer incidence rates rise steadily with age in men as they do in women; however, the average age of a new breast cancer diagnosis is five years older for men (67 years) than for women (62 years).
Main recommendations are-
Men with hormone receptor-positive breast cancer who are candidates for adjuvant endocrine therapy should be offered tamoxifen for an initial duration of five years; those with a contraindication to tamoxifen may be offered a gonadotropin-releasing hormone agonist/antagonist plus an aromatase inhibitor.
Men who have completed five years of tamoxifen, have tolerated therapy, and still have a high risk of recurrence may be offered an additional five years of therapy.
Men with the early-stage disease should not be treated with bone-modifying agents to prevent a recurrence, but could still receive these agents to prevent or treat osteoporosis.
Men with advanced or metastatic disease should be offered endocrine therapy as first-line therapy, except in cases of visceral crisis or rapidly progressive disease.
Targeted systemic therapy may be used to treat advanced or metastatic cancer using the same indications and combinations offered to women.
An ipsilateral annual mammogram should be offered to men with a history of breast cancer treated with lumpectomy regardless of a genetic predisposition.
Contralateral annual mammogram may be offered to men with a history of breast cancer and a genetic predisposing mutation.
Breast magnetic resonance imaging is not recommended routinely.
Genetic counselling and germline genetic testing of cancer predisposition genes should be offered to all men with breast cancer.
To date, recommendations for the treatment of male breast cancer have been extrapolated from the results of clinical trials that enrolled only women,2,55 from small case series, or from personal clinical experience in treating men with breast cancer.56 This ASCO formal consensus guideline is no exception. Clearly, additional research is needed on a broad array of topics concerning the management of male breast cancer,57 even those for which agreement on the treatment approach was high.
For further reference log on to:
Source : American Society of Clinical Oncology