Ghaziabad: One held for conducting sex determination test, center sealed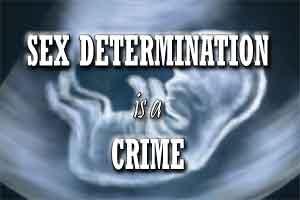 Ghaziabad: A team of health department from Sonipat, Haryana, along with police and other officials raided a diagnostic centre in Loni town here and nabbed an "unqualified" person who was allegedly conducting sex determination tests, a senior official said.
According to Sub Divisional Magistrate (SDM) Atul Kumar two doctors - Dr Adarsh (nodal officer of health department, Sonipat) and Dr Avantika - reached here upon information that a diagnostic center in Loni was determining the gender of fetuses.
The Haryana officials had information that several women from their state were being referred to the diagnostic center in Loni (which falls in Uttar Pradesh), by touts, the official said.
To check the veracity of the information, the team arrived here and with due permission of Ghaziabad district authorities following which a raid was conducted this morning, Kumar said.
A pregnant woman was sent as a decoy customer to the ultra sound centre for sex determination, the official said.
According to the SDM, a quack asked Rs fifteen thousand from the woman for finding the sex of the foetus.
"As and when the lady deposited the money, the team caught him red handed, as the numbers of currency notes were already noted by the officials," SDM Kumar said.
A case has been lodged at the Loni police station against the person and also the doctor, who is the registered owner of diagnostic centre in the records of health department.
Community health centre incharge of Loni Dr G P Maturia has confirmed the incident.
The diagnostic centre has been sealed, officials said. SDM added.