One Time Increase in PG Seats: 612 MD, MS seats to be added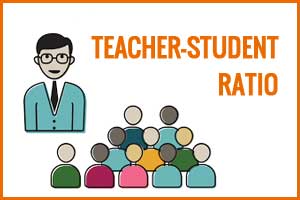 Great News for PG aspirants. Owing to the revision of the teacher-student ratio made by the Ministry, around 612 MD/MS seats will be added across various medical colleges in the country. The Ministry of health and family Welfare made a announcement through a public notice to this effect.
The notice states that MCI has recommended increase in seats in PG (Broad Specialty) courses for the year 2018-19 in clinical subjects of Government Medical Colleges/ PG Institutes across the country in the light of amendment in the teacher student ratio, as mentioned in the table below. The recommendation of MCI is subject to submission of an Undertaking by the State Health Secretary stating that the Institution will fulfill the minimum required facilities like infrastructure, beds and faculty, etc. at the tim of Assessment, failing which, the Council/ Central Government may withdraw the permission granted.
The Ministry has directed that  All State Governments/Union Territories concerned are advised to forward the Undertaking by the State Health Secretary on the above lines on e-mail to dvkrao@gov.in & so.melsecn-mohfw@gov.inlatest by 09.03.2018 so that necessary Letters of Permission (LoP) are issued in time.
Following are the details of the same




 

 




 

 




 

 

Institute Name

 


 

 

Appl. Sno.


 

 

Course Name


 

 

Increase of Degree Seats




 

From


 

By


 

Total




1


Andhra Pradesh




Andhra Medical College Vishakapatnam


1


MS-ENT


7


1


8




















2


















Assam




Assam Medical College Dibrugarh


2


MD-Anaesthesiology


9


7


16




3


MD-Psychiatry


4


2


6




Guhati Medical College & Hospital, Assam


4


MD-Emergency Medicine


2


2


4




5


MD-Paediatric


4


1


5




Lokopriya Gopinath Bordoloi Regional Institute of Mental Health


6


MD-Psychiatry


7


4


11




Silchar Medical College, Silchar


7


MD-Medicine


12


2


14












3










Bihar




A.N.M. Medical College, Gaya


8


MD OBGY


2


4


6













 Nalanda Medical College, Patna









9


MD OBGY


9


7


12




10


MD Paediatrics


7


1


8




11


MS Orthopaedics


2


4


6




4


Chhattisgarh


Pt. JNM Raipur


12


MD OBGY


9


2


11








5






Delhi


University College of Medical Sciences,

New Delhi


13


MD Dermatology


3


1


4




Vardhman Mahavir Medical College & Safdarjung Hospital


14


MD Paediatrics


15


1


16








6






Goa






Goa Medical College, Goa


15


MD Medicine


5


9


14




16


MD Psychiatry


2


4


6




17


MD Pulmonary Medicine


4


2


6






























7




























Gujarat












Govt. Medical College,

Surat


18


        MD

Anaesthesiology


8


7


15




19


MD Medicine


9


12


21




20


MD Paediatrics


6


2


8




21


MD pulmonary Medicine


1


4


5




22


MS Orthopaedics


3


6


9




23


MS Surgery


15


7


22








M.P. Shah Govt.

Medical College,

Jamnagar


24


MD Dermatology


2


2


4




25


MD Psychiatry


2


1


3




26


MS ENT


3


1


4






Medical College,

Baroda


27


MD Medicine


14


11


25




28


MS Ophthalmology


4


2


6










SMIMER Surat


29


MD Anaesthesiology


10


3


13




30


MD Medicine


9


6


15




31




MD Paediatrics


 

7


 

2


 

9
































8






























Jammu & Kashmir
















Government Medical College, Srinagar


32


MD Anaesthesiology


15


3


18




33


MD Medicine


18


1


19




34


MD Paediatrics


13


2


15




35


MD Psychiatry


5


3


8




36


MD Radiodiagnosis


8


2


10




37


MS ENT


6


2


8




38


MS Orthopaedics


5


11


16




39




MS Ophthalmology


 

6


 

5


 

11
















Govt. Medical College Jammu


40


MD Anaesthesiology


5


5


10




41


MD Dermatology


5


2


7




42


MD OBGY


12


1


13




43


MD Paediatrics


5


1


6




44


MS ENT


9


4


13




45


MS Ophthalmology


10


1


11




46


MS Surgery


19


1


20




















































9


















































Karnataka








Bangalore Medical College & Research Institute, Bengaluru


47


MD Anaesthesiology


21


6


27




48


MD OBGY


11


1


12




49


MD pulmonary Medicine


2


4


6




50


MS Ophthalmology


17


2


19




Command Hospital Air Force Bangalore

(PG Institute)


51


MS Ophthalmology


1


1


2




Hassan Institute of Medical Science,

Hassan


52


MD Dermatology


2


2


4




Kidwai Memorial Institute of Oncology

(PG Institute)


53


MD Radiotherapy


6


3


9












Karnataka Institute of Medical Sciences,

Hubli


54


MD Anaesthesiology


6


3


9




55


MD Medicine


16


7


23




56


MD OBGY


6


2


8




57


MD Paediatrics


7


2


9




58


MS Surgery


16


2


18




Mandya Institute of Medical Sciences,

Mandya


59


MD Anaesthesiology


4


4


8










Mysore Medical College & Research Institute, Mysore


60


MD Medicine


17


6


23




61


MD OBGY


4


2


6




62


MS ENT


2


4


6




63


MS Orthopaedics


5


2


7




VIIMS Ballari


64


MD Anaesthesiology


3


7


10
























10






















Kerala














Government Medical College Kozhikode


65


MD Anaesthesiology


6


13


19




66


MD Medicine


15


5


20




67


MD OBGY


10


2


12




68


MD Psychiatry


3


1


4




69


MD Radiodiagnosis


8


1


9




70


MS Ophthalmology


5


4


9




71


MS Orthopaedics


5


4


9








Government Medical College, Thiruvananthapuram


72


MD Medicine


18


6


24














Government Medical College, Trisshur


73


MD Anaesthesiology


8


14


22




74


MD Medicine


8


6


14




75


MD pulmonary Medicine


3


1


4




76


MS Ophthalmology


6


1


7




77


MS Orthopaedics


9


1


10




78


MS Surgery


8


9


17






Govt. T.D. Medical College, Alappuzha


79


MD OBGY


3


5


8




80


MD Paediatrics


5


2


7














11












Madhya Pradesh


MGM  Medical College, Indore


81


MS Orthopaedics


8


2


10






NSCB Medical College, Jabalpur


82


MS Orthopaedics


7


1


8




83


MS Surgery


13


4


17






Shyam Shah Medical College, Rewa


84


MD Psychiatry


2


2


4




85


MS Surgery


10


3


13


















































B.J. Govt. Medical College, Pune


86


MD Paediatrics


7


5


12




87


MS


4


2


6






Ophthalmology


 


 


 






Dr. Shankarrao Chawan GMC, Nanded


88


MS ENT


3


1


4




89


MS Ophthalmology


2


1


3




































12


































Maharashtra










GMCH  Nagpur


60


MD Anaesthesiology


7


7


14




91


MD Paediatrics


8


1


9




92


MD pulmonary Medicine


1


1


2




93


MS ENT


3


1


4




Govt. Medical College, Akola


94


MD  OBGY


7


4


11






Govt. Medical College, Aurangabad


95


MD  OBGY


7


7


14




96


MS Ophthalmology


4


2


6








Govt. Medical College, latur


97


MD Anaesthesiology


6


3


9




98


MS ENT


1


2


3




99


MS Ophthalmology


3


1


4






Govt. Medical College, Miraj


100


MD Anaesthesiology


4


2


6




101


MD  OBGY


6


2


8






Grant Medical College, Mumbai


102


MD Dermatology


2


3


5




103


MD pulmonary Medicine


3


5


8






Seth G.S. Medical College, Mumbai


104


MD Medicine


16


7


23




105


MD Paediatrics


16


8


24




Shri Vasantrao Naik

GMC, Yavatmal


106


MS Ophthalmology


3


1


4




Topiwala National Medical College, Mumbai


107


MD Dermatology


2


1


3








VMG Medical College, Solapur


108


MD Anaesthesiology


4


1


5




109


MD  OBGY


6


2


8




110


MD Paediatrics


3


4


7






13


Orrisa


MKCG Medical College, Brahmapu


111


MD-Dermatology


11


5


16

 
























14




















Rajasthan








Government Medical College


112


MD-Anaesthesiology


11


5


16






113


MD-OBGY


4


11


15






114


MS-Ophthalmology


3


1


4










Jawahar Lal Nehru Medical College, Ajmer


115


MD-Anaesthesiology


14


2


16






116


MD-Dermatology


3


1


4






117


MD-Medicine


14


4


18






RNT Medical College, Udaipur


118


MS-Ophthalmology


3


1


4






Sardar Patel Medical College


119


MS-Ophthalmology


6


2


8






SMS Medical College


120


MS-ENT


7


5


12














15


















































Tamil Nadu


Government Chengalpattu Medical College, Chengalpattu


121


MD-Anaesthesiology


10

 


2


12













Govt. Mohan Kumarmangalam Medical college, Salem, TN









122


MD-Medicine


10


6


16








123


MD-OBGY


6


4


10






Kilpauk Medical College, Chennai


124


MD-Anaesthesiology


6


6


12














Stanley Medical College, Chennai, T.N


125


MD-Anaeathesiology


7


5


12






126


MD-Medicine


23


8


31






127


MD-Radiodiagnosis


7


3


10






128


MS-Orthopaedic


9


3


12








Thanjavur Medical College, Thanjavur


129


MD-OBGY


8


5


13






130


MS-Ophthalmology


4


2


6












Tirunelveli Medical College, Trunelveli


131


MD-OBGY


9


3


12






132


MD-Paediatrics


9


4


13






133


MS-Orthopaedic


7


5


12




















16
















Telangana






Gandhi Medical College,


134


MD-Anaesthesiology


10


2


12






135


MD-Pulmonary Medicine


3


1


4














Kakatiya Medical College, Warangal


136


MD-Dermatology


2


1


3






137


MD-OBGY


10


5


15






138


MD-Radiodiagnosis


1


3


4






139


MS-ENT


4


1


5








140


MS-Ophthalmology


5


1


6






Nisams Institute of Medical Sciences, Hyderabad (PG Institute)


141


MD-Anaesthesiology


15


6


21










Osmania Medical College, Hyderabad


142


MD-OBGY


11


4


15






143


MS-ENT


9


3




12










17






Uttar Pradesh


Jawahar Lal Nehru Medical College, Aligarh


144


MD-Radiotherapy


2


2


4






Moti Lal Nehru Medical College, Allahabad


145


MD-Medicine


13


2


15








146


MD-Pulmonary Medicine


2


2


4






S. N. Medical College


147


MD-Pulmonary Medicine


2


1


3






Sanjay Gandhi Post Graduate Institute of Medical Sciences, Lucknow



(PG Institute)


148


MD-Radiotherapy


2


2


4






149


MD-Anaesthesiology


4


12


16






150


MD-Nuclear Medicine


2


4


6






King George's Medical College, Lucknow


151


MD-Psychiatry


8


4


12






18


West Bengal


Burdwan Medical College, Burdwan


152


MS-ENT


2


2


4








Calcutta Medical College, Kolkata


153


MD-Pulmonary Medicine


2


2


4






154


MS-Ophthalmology


2


6


8










Institute of Postgraduate Medical Education & Research, Kolkata


155


MD-OBGY


12


4


16






156


MD-Radiodiagnosis


8


4


12






157


MS-Surgery


15


4


19














Midnapore Medical College, Midnapore








158


MD-Anaesthesiology


2


6


8






159


MD-Medicine


2


13


15






160


MD-OBGY


3


9


12






161


MD-Paediatrics


2


5


7






162


MS-ENT


1


3


4






163


MS-Surgery


2


12


14






Nilratan Sircar Medical College, Kolkata


164


MD-Paediatrics


9


2


11






R.G. Kar Medical College, Kolkata


165


MD-Paediatrics


7


4


11






166


MD-Physical Medicine & Rehabilitation


1


2


3