1500 Complaints on Quacks, 20 suspensions, informs Maha Medical Education Minister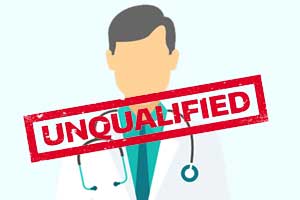 "Maharashtra Medical Council in the last four years received about 1500 complaints but action to suspend licence was taken in only 20 cases."-- Medical Education Minister Girish Mahajan
Mumbai: A question hour in a recent legislative council meeting took its turn to the revelation road tipping out the government's inefficiency in curbing the menace of unqualified doctors to practice in the state.
During the legislative session, Congress MLC Anant Gadgil raised the issue of unqualified medical practitioners taking the role of genuine doctors endangering patients' lives.
He said, "In semi-urban and rural areas, doctors who don't have any degree in pathology sign pathological reports, those who don't have a degree in gynaecology carry out complicated deliveries."
Later, he asked the concerned authorities if any action has been taken against this life-threatening practice.
Answering the said question, the Medical Education Minister Girish Mahajan informed the legislative members about the number of such complaints received by the medical bodies as well as the actions taken in regard.
The minister said, "Maharashtra Medical Council in the last four years, received about 1500 complaints but action to suspend licence was taken in only 20 cases."
Not satisfied by the minister's answer, the members sought to know when the investigation in other cases would be completed. On this, the minister confirmed that the medical council will submit its investigation report soon.
"The Medical Council will submit the report next week, and we will act on it immediately. We will not allow unqualified doctors to play with the lives of patients," the minister confirmed.
In addition, NCP MLA Hemant Takale produced a fake degree certificate by one such 'doctor', according to a recent report by Mumbai Mirror.