Only Medical colleges with three year functioning hospitals to be permitted by MCI: Report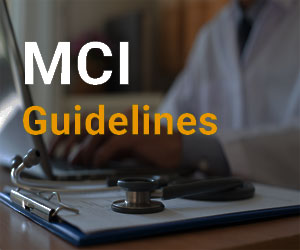 New Delhi: With numerous medical colleges failing inspections on the grounds of infrastructural and organizational deficiencies, the Medical Council of India (MCI) is mulling over to revise its policy to provide its permission only to those medical colleges which have a functional hospital for a span of at least three years.
The Indian Express recently reported about data of NITI Aayog, in view of which the MCI is expected to take the decision.
As per the rules stipulated by the MCI, a medical college with 100 seats mandatorily should have a functional teaching hospital with a capacity of at least 300 beds, with 60% occupancy during the time of submission of an application to the apex medical regulator. The 60% bed occupancy is required to be maintained at the time of the annual renewal the next year. The bed strength has to increase to 500, with a minimum 75% occupancy, at the time of the second renewal.
However, out of the 89 medical colleges that were approved in 2011-2018, 39 failed to clear inspection by the apex medical council. In most cases, the functioning of the hospital was found to be "deficient" whereas many were found to be facing faculty shortage and weak bed capacity, revealed the data available with the NITI Aayog.
Read Also: Staring at Bleak Future, Glocal Medical College MBBS students seek CM, MCI Intervention
As apparent from the data, the MCI saw that the new medical colleges are facing problems in running hospitals. As these institutes focus more on the education front, running a hospital never becomes a priority, it noted.
Taking the above into account, the MCI is now considering the option of restricting new medical colleges to institutions which have a functional hospital for at least three years, reports The Indian Express.
"It is clear from the fate of the new medical colleges that the real problem is in the running of the hospital. That is where most of them slip up, because, for a medical college, running the hospital is never a priority, partly because all the investment is done on the teaching side of the business. That is why we are looking at upturning the rules and allowing new medical colleges only where a hospital has been running for three years for more. This would, in essence, mean that only existing hospitals and chains would be eligible to start new MBBS programmes, especially in the private sector,"  source informed Indian Express .
Read Also: MCI in Delhi HC: We have adopted IPS guidelines on sexual boundaries for doctors
Medical Dialogues had recently reported that the MCI has moved towards the Implementation of reservation of 10% seats in Postgraduate (PG) course for the Economically Weaker Section (EWS) candidates by enhancing of PG seats in the existing Medical Colleges/ Institutes under the policy 10A of the IMC Act, 1956 for the academic year 2020-21
Read Also: MCI moves to implement 10 percent EWS quota in medical colleges, Asks States to submit Seat Matrix