Rare case of Orbital hydatid cyst reported in NEJM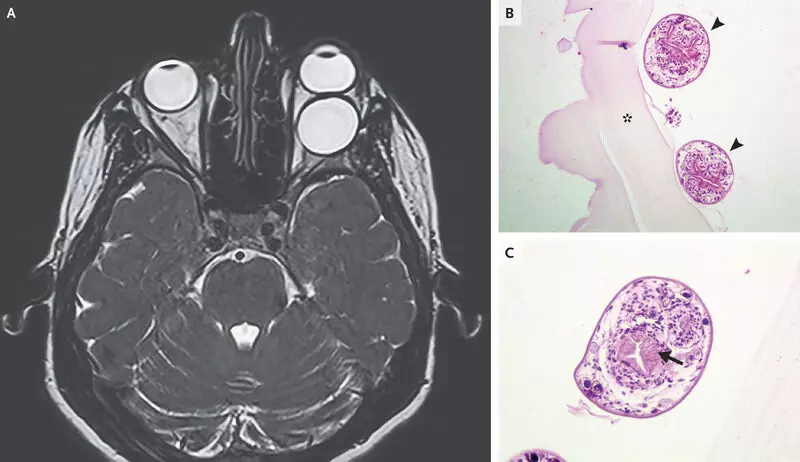 Dr Stelios F. Assimakopoulos and Dr Markos Marangos at University of Patras, Patras, Greece have reported a rare case of Orbital hydatid cyst. The case has been published in the New England Journal of Medicine.
Hydatid disease is a parasitic infestation by a tapeworm of the genus Echinococcus. Hydatid disease (Echinococcus granulosus) is endemic in the Middle East as well as other parts of the world, including India, Africa, South America, New Zealand, Australia, Turkey, and Southern Europe.
An orbital hydatid cyst is a rare form of hydatidosis, comprising less than 1% of all hydatid cysts reported. The first choice of treatment for orbital hydatid cyst is surgery. Preoperative diagnosis is important, so as to avoid rupture of the cyst and prevent the spread of the parasitic disease. The symptoms include progressive exophthalmos with proptosis with or without pain, disturbance in ocular motility, visual deterioration, and chemosis.
According to the history a 31-year-old woman presented to the emergency department with a history of blurred vision in the left eye over a 4-week period and progressive bulging of the left eye over a 2-week period. Physical examination revealed non-tender proptosis of the left eye, paresis of the left abducens nerve, and reduced visual acuity in the left eye.
A T2-weighted gadolinium-enhanced magnetic resonance image of the brain showed a well-defined, ovoid, cystic, and retrobulbar lesion in the left orbital cavity (Panel A). The optic nerve was displaced nasally and the lateral rectus muscle was compressed. The patient underwent left lateral orbitotomy, and the cyst was completely removed but ruptured during surgery. The area was washed with saline. Histopathological examination revealed multiple protoscolices (Panel B, arrowheads), with central hooklets (Panel C, arrow), adjacent or attached to a thick, acellular laminated echinococcal cyst membrane (Panel B, asterisk). A diagnosis of a hydatid cyst caused by the Echinococcus granulosus tapeworm was made. Thoracic and abdominal computed tomographic scans revealed no extra orbital organ involvement. The patient received a 3-month course of albendazole, and at follow-up 3 months later, she had full recovery of visual acuity.

For further reference log on to: