10% of elderly patients of Shingles eyes lose vision, those having uveitis or immunocompromised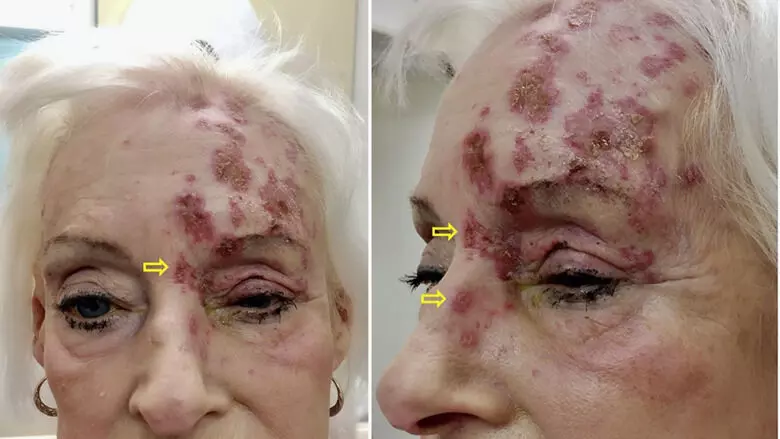 Herpes zoster (shingles) represents reactivation of latent herpes zoster virus in individuals with previous chickenpox infection. It occurs in one in three individuals over their lifetime, with significant sequelae, including recurrent episodes and post-herpetic neuralgia, and is associated with depression. In a recent study, researchers have found that among individuals with herpes zoster ophthalmicus, approximately 1 in 10 develop vision loss which was associated with older age, immunosuppression and uveitis. The study findings were published in the AMERICAN JOURNAL OF OPHTHALMOLOGY on February 11, 2021.

Herpes zoster affects 20% to 30% of the population at some point in their lifetime; approximately 10% to 20% of these individuals will have herpes zoster ophthalmicus (HZO). The incidence and severity of HZ increase with advancing age. Herpes zoster ophthalmicus occurs when HZ presents in the ophthalmic division of the fifth cranial nerve. Ocular involvement occurs in approximately 50% of HZ patients without the use of antiviral therapy. However, the rate of moderate and severe vision loss following HZO remains unclear. For the same purpose, researchers conducted a retrospective study, to assess the rate of moderate and severe vision loss following herpes zoster ophthalmicus (HZO) and to identify associated factors.
It was a retrospective cohort study of 869 subjects with HZO, who were evaluated at a single center from 2006 to 2016. The major outcome assessed was the proportion of individuals with moderate and/or severe loss of vision following an acute episode of HZO. Researchers also assessed the causes and factors associated with permanent loss of vision due to HZO.
Key findings of the study were:
• Researchers diagnosed ocular involvement of HZO at or within the first month of presentation in 737 individuals.
• They noted that the most common sites of ocular involvement were conjunctivitis (76.1%), followed by keratitis (51.2%) and uveitis (47.6%).
• They found moderate vision loss (≤20/50) secondary to HZO occurred in 83 eyes (9.6%) while severe vision loss (≤20/200) occurred in 31 eyes (3.6%).
• They also found the causes of loss of vision included corneal scarring (94.0%), corneal perforation (4.8%), and secondary glaucoma (1.2%).
• Upon multivariate analysis, they noted severe vision loss was associated with older age (HR 1.059), immunosuppression (HR 3.125), poor presenting visual acuity (HR 2.821) and uveitis (HR 4.777).
The authors concluded, "Among individuals with HZO, approximately 1 in 10 individuals may develop moderate or severe vision loss, primarily due to corneal scarring. Older age, immunosuppression, and uveitis are associated with severe permanent loss of vision secondary to HZO."
For further information:
Article Source :
AMERICAN JOURNAL OF OPHTHALMOLOGY