Low concentration Povidone-iodine solution effectively prevents intraocular infections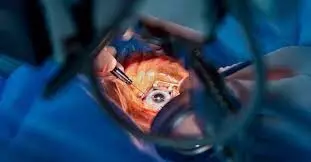 Povidone-iodine solution is an effective regimen for preventing intraocular infections according to a recent study published in the Current Opinion in Ophthalmology.

Endophthalmitis following intraocular surgery is rare using current antiseptic techniques, such as single application of 5% povidone-iodine to the ocular surface and adjuvant topical or intracameral antibiotics. Challenges remain, however, including increased multidrug-resistant bacterial endophthalmitis, increased fungal endophthalmitis, and the low but nonzero endophthalmitis rate attributable to the typical bacteria that colonize the ocular surface.
Recent findings of the study are:
Povidone-iodine has a wide spectrum of activity, including activity against novel pathogens, such as SARS-CoV-2. Povidone-iodine alternatives, such as hypochlorous acid can have significantly less efficacy in vitro against endophthalmitis isolates. Repetitive application of dilute povidone-iodine has an excellent safety profile and strong evidence base for efficacy.
Thus, Povidone-iodine is widely available, inexpensive, and commonly used by ophthalmologists. The repetitive application of dilute povidone-iodine is a well-studied, well tolerated, and efficacious way to transiently sterilize the ocular surface during intraocular surgery. Additional benefits include activity against multidrug-resistant bacteria, fungi, and lack of inducible resistance.
Reference:
Low-concentration povidone-iodine for the prevention of intraocular infections in ophthalmic surgery by Grzybowski, Andrzej et al. published in the Current Opinion in Ophthalmology.
https://journals.lww.com/co-ophthalmology/Abstract/2022/01000/Low_concentration_povidone_iodine_for_the.7.aspx
Source : Current Opinion in Ophthalmology BDS
Dr. Shravani Dali has completed her BDS from Pravara institute of medical sciences, loni. Following which she extensively worked in the healthcare sector for 2+ years. She has been actively involved in writing blogs in field of health and wellness. Currently she is pursuing her Masters of public health-health administration from Tata institute of social sciences. She can be contacted at editorial@medicaldialogues.in.