Ankylosing spondylitis patients are at higher risk for Obstructive Sleep Apnea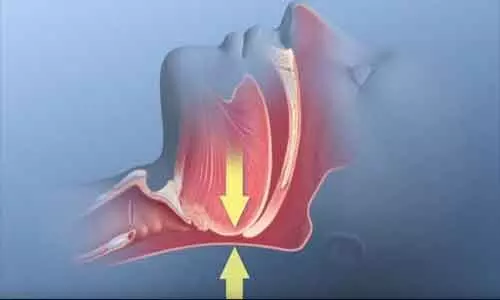 Taiwan: Patients with newly diagnosed ankylosing spondylitis (AS) are at a 2.8-fold higher risk of developing obstructive sleep apnea (OSA) than the general population, according to a recent study published in the journal Frontiers in Medicine. The risk was especially high within 2 years after newly diagnosed AS and in the people aged 40–59 years.
Obstructive sleep apnea as a potentially serious sleep disorder with a damaging impact on the quality of life of the patient. It is characterized by repeated cessation of breathing during sleep. A noticeable sign of OSA is snoring.
Ankylosing spondylitis is a chronic inflammatory disease that primarily affects the spine, although other joints can become involved. It can lead to severe, chronic pain and discomfort. The prevalence of OSA in AS patients is higher than that reported in the general population, but it is not easy to identify OSA in AS patients if no detailed testing of polysomnography.
Chien-Han Tsao, Department of Otolaryngology, Chung Shan Medical University Hospital, Taichung, Taiwan, and colleagues investigated the risk of obstructive sleep apnea(OSA) among ankylosing spondylitis (AS) patients based on administrative healthcare databases.
For the purpose, the researchers conducted a nationwide cohort study by using the Taiwan National Health Insurance Research Database with 1997–2013 claim records. The AS cohort included 2,210 patients who were newly diagnosed between 2003 and 2013, 8840 healthy controls. Randomly selected non-AS controls were matched at a 1:4 ratio.
The endpoint was set as OSA occurrence or the end of 2013.
Key findings of the study include:
The adjusted HR (aHR) of OSA in the AS group was 2.826 compared to the control group.
On landmark analysis, aHR was 7.919 for the AS group 0–24 months from the index date and decreased to 1.816 at ≥ 24 months from the index date.
The increased risks of OSA in the AS group compared to the control group were found for both males and females (aHRs were 4.533 and 2.672).
On age-stratified analysis, a significant risk only for the 40–59 age group with aHR of 3.913.
"Further studies are recommended to clarify the underlying biological mechanisms of these associations. It is important to evaluate sleep quality and quantity for patients with AS to detect the occurrence of OSA and to reduce further complications," concluded the authors.
The study, "Ankylosing Spondylitis Is Associated With Risk of New-Onset Obstructive Sleep Apnea: A Nationwide Population-Based Cohort Study," is published in the journal Frontiers in Medicine.

Source : Frontiers in Medicine