High disability early in RA tied to increased mortality risk, finds study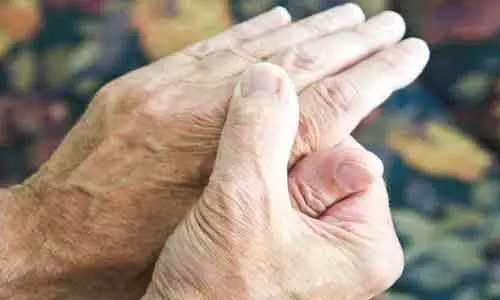 Canada: Higher self-reported disability and disease activity score (DAS) at 1 year significantly increased all‐cause mortality in patients with early rheumatoid arthritis (ERA), suggests a recent study published in the journal Arthritis & Rheumatology.
Safoora Fatima, University of Western Ontario, London, Ontario, Canada, and colleagues assessed the association of higher self‐reported disability (high HAQ) with hospitalizations and mortality in early rheumatoid arthritis.
It included 1724 patients (mean age 55 years; 72% female) with ERA (symptoms <1 year) who were enrolled in the Canadian Early Arthritis Cohort (CATCH) who initiated DMARDs and had completed HAQ data at baseline and 1 year follow up. Discrete‐time proportional hazards models were used for the estimation of crude and multi‐adjusted associations between HAQ at baseline and 1 year, respectively, with all‐cause mortality in each year of follow up.
Also Read: Early DMARD therapy for rheumatoid arthritis lowers CVD risk: BMJ

Key findings of the study include:

Over 10 years, 62 deaths (2.4%) were recorded.
Deceased patients had higher HAQ scores at baseline 1.2 and at 1 year 0.9 vs non‐deceased 1.0 and 0.5.
DAS28 was higher in deceased vs non‐deceased at baseline [5.4 vs 4.9] and at 1 year [3.6 vs. 2.8].
Age, male sex, lower education, smoking, more comorbidities, higher baseline disease activity score (DAS) and glucocorticoid use were associated with mortality.
Contrary to HAQ at baseline, the association between all‐cause mortality and HAQ at 1 year remained significant even after adjusting for confounders.
HAQ baseline unadjusted hazard OR was 1.46 and adjusted 1.25 vs. HAQ at 1‐year unadjusted hazard OR was 2.58 and adjusted 1.75.
"Higher HAQ and also DAS at 1 year was significantly associated with all‐cause mortality in a large ERA cohort," concluded the authors.
Also Read: Mediterranean diet may protect women smokers from rheumatoid arthritis: Study

The study, "Health Assessment Questionnaire at One Year Predicts All‐Cause Mortality in Patients with Early Rheumatoid Arthritis," is published in the journal Arthritis & Rheumatology.

DOI: https://onlinelibrary.wiley.com/doi/abs/10.1002/art.41513
Source : journal Arthritis & Rheumatology