Single Intra-articular injection of Micro fat Improves pain in knee osteoarthritis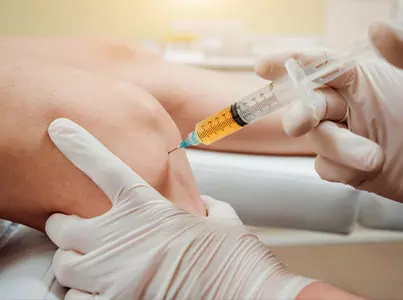 Several non-invasive solutions for pain relief, improvement in function and disability, and eventually, modification of the progression of severe cartilage lesions and osteoarthritis (OA) have been proposed with variable success rates. In a recent study, researchers have found that a single intra-articular injection of micro fat (MF) irrespective of the presence of Platelet-Rich Plasma (PRP) improves clinical outcomes in osteoarthritis patients. The study findings were published in the journal Arthroscopy on April 19, 2021.

In this present study, Dr Marie Laure Louis, MD and her team conducted a study to compared a single abdominal micro fat (MF) injection mixed or not with PRP Low Dose (LD) or High Dose (HD) to improve MRI parameters and alleviate pain and enhance functional capacity in knee osteoarthritis (OA).
It was a double-blind, comparative study of patients with symptomatic grade 2 to 4 knee OA according to the International Cartilage Repair Society MRI classification. The researchers categorized the patients into three groups of 10 patients and administered a single injection of 10 cc of a mix containing either MF-Saline, MF-PRP LD or MF-PRP HD. They prospectively assessed the patients at baseline, at 3 and 6 months of follow-up. The major endpoint assessed was the change in a maximum value of cartilage relaxation time in T2 mapping sequences (T2max) at three months. Researchers also assessed the MRI grade severity and joint space assessment, WOMAC score, pain evaluation, knee range of motion and patient's satisfaction. They further analyzed the complete cell counts and growth factors content of injected products to analyze their potential relationship with MRI/clinical outcomes.
Key findings of the study were:
Upon analysis, the researchers found no significant change in the T2max over time for any of the groups.
They also found that all treatments significantly improved knee functional status and symptoms relief at 3 and 6 months.
They noted that all patients were responders in the MF/PRP HD at three months and significantly higher compared to MF/PRP LD.
They reported that half of the injected PRP in the MF/PRP LD group were RBC's contamination over 8% which was correlated with impairment of T2max.
The authors concluded, "A single intraarticular injection of MF with or without PRP is safe and may offer a significant clinical improvement in patients with OA."
For further information:
https://www.arthroscopyjournal.org/article/S0749-8063(21)00340-6/fulltext
Article Source :
Arthroscopy