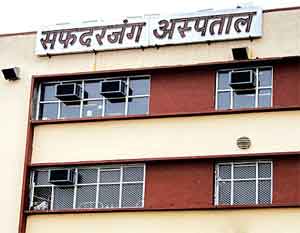 New Delhi:  Anguished over 800 beds at the new super-speciality building of Safdarjung hospital remaining under-utilised, a parliamentary panel today recommended the government to consider a proposal to transfer the new block to AIIMS "without delay".
The committee, in its 106th report on Demands for Grants 2018-19 for the department of health, stated that beds of the new super-speciality building of Safdarjung hospital are lying underutilised due to non-availability of doctors and staff.
 On the other hand, it said, there is a long waiting duration to avail cardiac care in AIIMS and G B Pant Hospital.
It is thus recommended that the centre arranges for doctors and staff at the hospital for optimum utilisation of available beds in its new building, the panel said.
"The committee recommends that either the government must arrange super-speciality doctors and staff for optimum utilisation of available 800 beds in the super-speciality new building of the Safdarjung hospital, failing which, the proposal of AIIMS to handover the new building to AIIMS be approved without delay," the committee said in the report.
The report stated that the ministry needs to appreciate there is an adequate number of doctors and staff in the cardiac department of AIIMS for optimal utilisation of the super-speciality cardiac care facility of the Safdarjung hospital.
"Sooner the decision is taken, better would be in the interest of cardiac patients," the committee stated.
The committee, however, appreciated the department's efforts for speedy implementation of the Emergency Block at the hospital, saying it would share the burden of the health facility in catering to the urgent care needs of the trauma victims.
Since, there is a dire need for super-speciality and emergency blocks, the committee recommended the department to make all-out efforts to accelerate the operationalisation of the projects by getting requisite certificates and approvals.
The committee also observed that out of the 3,264 sanctioned posts under various categories, 2,664 posts are filled, while 601 posts are vacant. Out of 408 posts created on a regular basis under the Redevelopment Plan, 165 posts under various categories would be filled up on contract basis.
Stating that filling up the posts on contract basis is a stop-gap arrangement, which will not go a long way, and inordinate delay in recruitment of doctors would hamper the functioning of the new critical care facilities, the panel, recommended advertisements of all the posts for filling them up on regular basis within specified time frames.
Read Also:
AIIMS or Safdarjung hospital: Who will operate the new super speciality block?
2 comment(s) on Transfer Safdarjung Super Specialty Block to AIIMS WITHOUT DELAY: Parliamentary Panel