Parliamentary Standing Committee report on corruption has no foundation: AIIMS to HC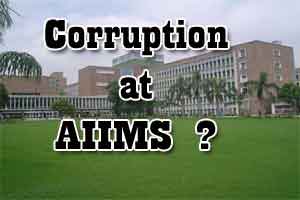 New Delhi: AIIMS has told the Delhi High Court that Parliamentary Standing Committee's report, which strongly criticised the health ministry for being non-serious in dealing with an array of corruption cases, "is based on no foundation" and has "no legal sanctity".
The Parliamentary Standing Committee on health and family welfare, in its 87th report tabled in August 2015 had concluded "Evidently, the (health) ministry appears to be non-serious in tackling corruption at AIIMS. The Committee, therefore, strongly deprecates the non-serious approach of the Ministry towards tackling such a large number of cases of corruption at AIIMS."
It added, "The Committee is perturbed to note that despite unravelling of corruption cases at AIIMS at regular intervals, the Ministry has done away with the regular Chief Vigilance Officer's post at AIIMS and the role of anti-graft officer of AIIMS has been assigned to a Joint Secretary and CVO in the Ministry of Health and Family Welfare."
It went on to say, "Taking note of corruption cases in AIIMS highlighted by the media, the Committee had sought a status note on the probes initiated from 2011 to 2014. The Committee notes from the information furnished by the Ministry that myriad corruption cases are under investigation involving AIIMS officials and doctors."
It detailed out the laundry list of cases, "The cases include disproportionate asset cases, procurement of computers and peripherals without following the purchase procedure, alleged financial irregularities in purchase of surgical gloves and medicines, construction of engineering works without approval of the statutory bodies, alleged tempering with selection lists of operation theatre assistants, irregularities in appointments of officials under sports quota, massive irregular payment to contractors, irregularities in awarding the work of development of ward and allied spaces for Department of Pulmonary Medicine, purchase of uniforms for employees, etc."
In several of these and other cases of corruption senior officials of health ministry and AIIMS have been mentioned against allegations of corruption and illegalities. In many of these cases CVC has recommended actions against officials including major departmental penalties, which includes dismissal. In several cases where recommendations were made for action, final decision awaits clearance from the health ministry and the minister.
Sanjiv Chaturvedi, whose controversial removal from the post of CVO of AIIMS is mentioned in the standing committee report, took the AIIMS authorities and the health ministry to court when the latter tried to revise his official appraisal report where he had been given top marks. His plea was defeated in the Central Administrative
Tribunal, which he challenged subsequently in the Delhi High Court. In his appeal before the high court, Chaturvedi alleged that he was being harassed for having unearthed corruption cases and the authorities had tried to scuttle probes in to multiple graft cases at AIIMS. To support his allegations, Chaturvedi attached the Parliamentary Standing Committee report, besides presenting other documents. The court agreed to stay the adverse orders of CAT and admitted his plea asking AIIMS to respond to his plea.
AIIMS' remarks on the Parliamentary standing committee's findings came as part of this response. In an affidavit submitted with the clearance of its director, AIIMS stoutly defended its actions and denied all allegations that Chaturvedi had made. As part of this defence, AIIMS said that "Observations of the Parliamentary Committee as mentioned in paragraph 5 of the Writ petition is based on no foundation. Moreover, the said observation have no legal sanctity and is not binding. It is merely in the nature of recommendation."