Patient attendants Attack Female doctor, Pull her Hair: 2500 Resident Doctors go on strike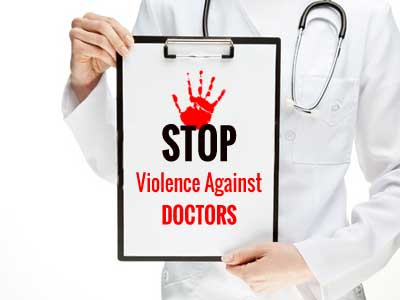 Jaipur: Violence erupted at a hospital attached with renowned Sawai Man Singh Medical College (SMS medical College) when infuriated attendants of a patient brutally attacked a female resident doctor.
As per media reports, the female doctor hid in the bathroom dreaded by the attack. Following the incident, over 2,500 resident doctors attached with SMS Medical College observed a strike demanding security at the medical college and hospital premises.
The horrific incident took place on March 11 when an 80-year-old patient who suffered Myocardial Infarction (MI) was admitted in Kanwatia Hospital. After observing the patient's condition, the doctors referred her to Sawai Man Singh hospital. While the female resident doctor was completing the documents for shifting the patient, her attendants started hurling abuses at the doctor. They allegedly kicked the doctor and pulled her hair in aggression.
Read ALso: Meerut: Two MBBS Medicos Assaulted over Love Jihad Suspicion
Speaking to TOI about the incident, Dr L Harshwardhan, Superintendent, Kanwatia Hospital informed, "Since, she was a serious patient we referred her to Sawai Man Singh hospital immediately. But, while the resident doctor was completing the formalities for her shifting from Kanwatia hospital to SMS hospital, the attendants got aggressive and the incident happened."
[embed]https://youtu.be/PtApYUvX5KQ[/embed]
The hospital administration immediately called the police to pacify the situation. After arriving at the hospital, the police arrested two accused of assaulting the doctor.
"We reached Kanwatia hospital immediately and arrested the two accused involved in beating up the doctor," Amar Singh Meena, SHO, Shastri Nagar police station, confirmed to TOI. Further, the arrested duo was presented before a local court, which sent them both to judicial custody. "They were booked for causing disruption in government services," informed SHO.
Read Also: JIPMER MBBS Interns Protest against Sexual harassment complaint against fellow Doctor
Resident Doctors Strike
In response to this brutal attack on the fellow female resident doctor, MBBS doctors at SMS medical college observed a strike and demanded security from the concerned authorities to curb this uncontrolled horrific menace of assault on medical professionals. As per a report by National Dunia, over 2500 doctors were protesting against the assault.
During the strike, the agitating doctors demanded that security for them be strengthened in government-run hospitals and also CCTVs should be installed in the hospitals to keep an eye on activities inside.
According to Jaipur association of Resident who is protesting against the incident, this is the fourth such incident at the medical college in the span of three months. The doctors have blamed the hospital's administration for the incident. The association has also demanded the authorities to relieve Medical Superintendent of  Kanwatia hospital of his duties.
Read Also: Medicos Versus Medical college Principal: VIMSAR junior doctors to continue their strike
Meanwhile, the Medical College Teachers Association of Rajasthan (MCTAR) has also condemned the attack. The association wrote to SMS Medical College Principal and Controller Dr Sudhir Bhandari mentioning, "The entire faculty has strong resentment. Immediate action should be taken against culprits otherwise we will also join the agitation."