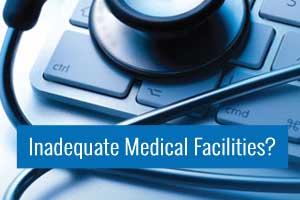 Patients at a medical centre at Madhya Pradesh's Chhattarpur district have complained of medical negligence by the hospital authorities.
Patients have complained that doctors, in the medical centre located in Chandler's Sarwai, leave them unattended and the staff member demands extra money to perform their duty.
Another patient alleged that the driver of the ambulance demanded money from him after he dropped his sick relative at the centre.
"We called for the ambulance, but then we were told that the driver does not know the address. When he actually dropped us at the centre, he demanded Rs. 200 from us. We are poor people. How could we give that?" asked the relative of a patient in the medical centre.
Meanwhile, the staff members have also complained that the condition of the hospital is "bad" and they have to use torch and candles for work as there is hardly any electricity.
"Bhagwan bharose delivery hoti hai (Babies are being delivered at the mercy of god). We refer them to other hospitals in case they are serious.
If there is electricity then it is fine, but we generally use torch and candles for treatment of patients," Auxiliary Nurse Midwifery told ANI.
She also said that they have complained about the problems, which have been ignored by the authorities.
Chandler MLA, RD Prajapati said that the maximum number of deaths due to malnutrition happen in his constituency.
"There is a dearth of doctors. I appeal the administration to depute the adequate number of doctors. There is no electricity supply or generator in the area," he added.
However, the chief medical officer of the hospital termed the allegations false, and promised action against the ambulance driver who asked for money.
"It is a false allegation. There is proper electricity supply. If there is a power shortage they have power backups. It is completely false that there is staff shortage or no power supply. We will take action against the ambulance driver," said Chattarpur Chief Medical and Health Officer.
0 comment(s) on Patients complain of inadequate facilities at medical center in MP