Patients of female surgeons may have better outcomes: BMJ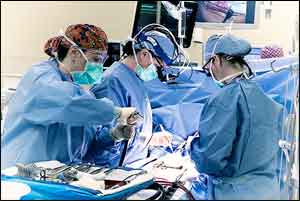 Toronto: Patients treated by female surgeons are less likely to die in the first few weeks after operation than those treated by their male counterparts, a study claims.
Studies have shown that women and men practise medicine differently, although little research exists on differences in learning styles, acquisition of skills, or outcomes for female and male surgeons.
Researchers led by Raj Satkunasivam from the University of Toronto in Canada compared outcomes for patients undergoing one of 25 surgical procedures by a female surgeon with patients undergoing the same operation by a male surgeon of the same age in the same hospital in Canada.
To ensure the two groups were well balanced, patients were matched for age, sex, presence of other conditions and income. Surgeons were matched for age, experience, volume and hospital.
The main outcome was a combined measure of death, readmission to hospital and complications 30 days after surgery, researchers said.
A total of 104,630 patients were treated by 3,314 surgeons (774 female and 2,540 male) over the study period (2007-2015).
The study published in The BMJ found that patients treated by female surgeons were slightly less likely to die within 30 days, but there was no significant difference in readmissions or complications.
There was also no difference in outcomes by surgeon sex in patients who had emergency surgery, where patients do not usually choose their surgeon, researchers.
Results remained largely unchanged after accounting for additional factors like case mix (differences in a patient's condition), researchers said.
Possible reasons underlying better outcomes for patients treated by female surgeons are not clear, although it may be related to delivery of care that is more in line with guidelines, more patient centred, and involves better communication, they said.
"Our findings have important implications for supporting sex equality and diversity in a traditionally male dominated profession," researchers said.