PC-PNDT Crimes: Sarita Vihar Gynaecologist arrested in Delhi for sex determination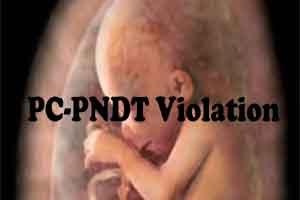 New Delhi: Adding to the list of violations under the PC-PNDT Act, authorities in the capital have now arrested a gynecologist and a general physician, who were caught conducting sex determination on a decoy patient during a sting operation.

In a joint sting operation conducted by the Delhi and Haryana officials, a decoy patient from Faridabad was sent to Walia Maternal and Health Center in Sarita Vihar. This came after one Dr from Faridabad informed the officials about tout that was taking patients for the purpose of sex determination to some clinic in Sarita Vihar.

Authorities then setup a sting operation with a decoy customer, sending her to the tout. The tout took the decoy patient to the said Walia Medical and Health Centre in Sarita Vihar. At the centre, Ultrasound on the patient was performed by the gynecologist at the center, Dr Neelam Walia, where the patient was informed about the sex of the fetus. The authorities then reached the spot and caught (*correction) the gynecologist along with her husband, Dr KS Walia, a general practitioner. Rs 14,000 in marked currency notes were also recovered from them.

The two ultrasound machines, registered with the centre have also been sealed.