AAP guideline on primary care for hypertension in children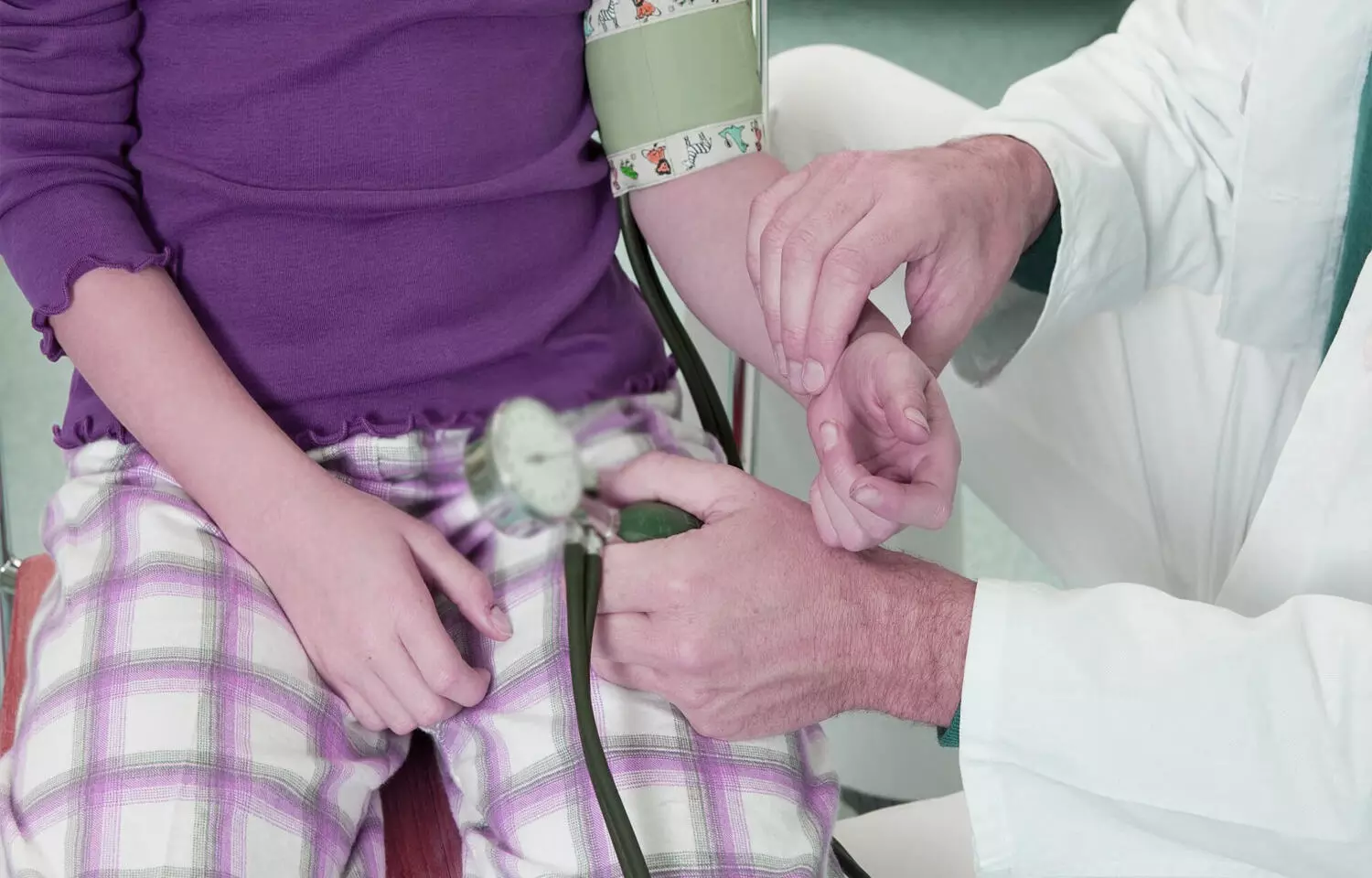 USA: In the last 40-years, obesity in the pediatric population has quadrupled. This has resulted in the American Academy of Pediatrics (AAP) update its criteria to classify pediatric hypertension. It is vital to identify the early red flags of hypertension in children and intervene at the earliest.
A recent article by Dr. Christopher Fox in the Journal of Primary Care: Clinics in Office, summarized the scientific updates of pediatric hypertension in a nutshell.
The American Academy of Pediatrics (AAP) advised that all children be tested for hypertension beginning at the age of three and repeated every year (Grade C recommendation). For children with conditions like obesity, renal disease, coarctation of the aorta, diabetes, or who are on medications that can increase blood pressure, it is recommended that they are checked at every counter. This is also applicable to children under the age of 3 with medical conditions like kidney dysmorphia, low birth weight, maternal smoking history.
To differentiate primary from secondary hypertension it is necessary for the history of hypertension or cardiovascular disease in the family is a documented risk factor for primary hypertension along with Hispanic descent, Male gender, and African American. Studies have also established the factors that lead to secondary hypertension like Family history of hypertension or cardiovascular disease, male gender, Hispanic descent, African American descent, Obesity, Insulin resistance, Sleep disorders, Low birth weight, Maternal history of smoking, chronic kidney disease and Elevated uric acid levels.
It is suggested that any child over the age of three who is obese or with other risk factors are documented to predispose them to hypertension and are advised to get their blood pressure checked at every visit to the doctor.
Blood pressure is monitored with the help of an oscillometric automated device or by an auscultatory method. The pressure observed is compared to the nomogram, and if needed two or more measurements can be taken and their average is assessed.
In the case of stage 2 hypertension, it is recommended to do further testing to rule out end-organ damage. The AAP has formulated mandatory echocardiography for children who are registered under pharmacologic treatment for hypertension. They are evaluated further for renovascular reasons, which includes laboratory tests and CT imaging at times.
Recent studies suggest that children with elevated blood pressure, categorized as prehypertension category should be intervened with decreased dietary sodium, weight loss, Nutrition management, or consultation with a registered dietician. Children should be always encouraged of active physical activity, healthy sleep patterns, and healthier eating habits.
In an asymptomatic kid (95 – 99th percentile), stage 1 hypertension is generally managed with lifestyle modifications, conservative treatments, and regular monitoring and follow-up with blood check with auscultation. Ambulatory blood pressure monitoring and pharmacologic treatment must be initiated in case of pressure being persistently high for the past 3 visits.
The recent classification characterizes Stage 2 hypertension as blood pressure that is higher than the 95th percentile (112 mm Hg) or 140/90, whichever is lower. Further management such as ambulatory blood pressure monitoring is recommended if the pressure remained the same in over a week's visit.
Generally, it is advisable to start pharmacologic treatment if the child's blood pressure remains in the stage 2 category, or if he or she exhibited Left Ventricular Hypertrophy on echocardiography, or if he or she is symptomatic with follow-up to every 4-6 weeks. Angiotensin-converting enzyme (ACE) inhibitors or angiotensin receptor blockers (ARB), long-acting calcium channel blockers, or thiazide diuretics are generally considered for the initial line of treatment. These drugs are to be administered carefully as they can have side effects in patients with kidney disease, proteinuria, or diabetes.
Physical exercise is recommended in preventing childhood obesity and hypertension, and it is one of the first lifestyle changes that people diagnosed with high blood pressure or hypertension are advised to make. For youngsters aged 6 to 17, the recommended time is 60 minutes of moderate-to-vigorous physical exercise each day. While children under 6 are advised to be active throughout the day. Nutritional management and good sleep hygiene are also important aspects of preventive and lifestyle changes.
For further insight

Fox, C. (2021). Pediatric Hypertension. Primary Care: Clinics in Office Practice, 48(3), 367–378. https://doi.org/10.1016/j.pop.2021.04.001
Source : Journal of Primary Care: Clinics in Office