CDC latest Guidance on New Hexavalent Vaccine for Infants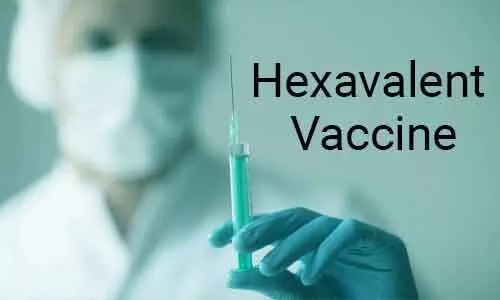 USA: It is a known fact that combination vaccines merge equivalent component vaccines into a single product to prevent multiple diseases, which can reduce the number of injections administered and improve vaccination coverage.
The CDC has published guidance on administering a new hexavalent vaccine to prevent diphtheria, tetanus, pertussis, polio, Haemophilus influenzae type b, and hepatitis B infection (DTaP-IPV-Hib-HepB).
The current infant and childhood vaccine schedule is becoming increasingly crowded, with as many as 5 injections recommended at a single visit for completion of the primary series and a minimum of 18 injections during the first two years of a child's life. Therefore for parents concerned about the increasing number of injections their children receive, combination vaccines are a welcome relief. This hexavalent vaccine can reduce the number of injections to two per visit for the primary series and might increase the acceptability of the vaccine schedule for some parents.The three-dose Vaxelis vaccine was approved in 2018 but is not expected to be available in the U.S. until 2021.
Guidance for Use-
The vaccine is indicated for use in infants at ages 2, 4, and 6 months and is licensed for use in children aged 6 weeks through 4 years. It counts as the first three doses of the DTaP vaccine;

It should not be given as the fourth or fifth dose.

In addition, the fourth dose of IPV must be given separately to protect against polio, and a booster dose of Hib conjugate vaccine must also be given.

When needed, DTaP-IPV-Hib-HepB can be administered in a catch-up schedule for children under age 5 years. Of note, the observed rate of fever was higher with this combination vaccine than with the DTaP-IPV/Hib pentavalent vaccine (roughly 47% vs. 34%).
Before the routine use of Hib vaccines, incidence of H. influenzae meningitis among American Indian/Alaska Native (AI/AN) infants peaked at a younger age (4–6 months) than it did among other U.S. infant populations (6–7 months). Vaccination with a primary series of a Hib vaccine that contains PRP-OMP is preferred for AI/AN infants to provide early protection because these vaccines can provide a protective antibody response after the first dose
For further reference log on to :
Source : Morbidity and Mortality Weekly Report