A rare case of bilateral lower limb gangrene in a neonate : Case report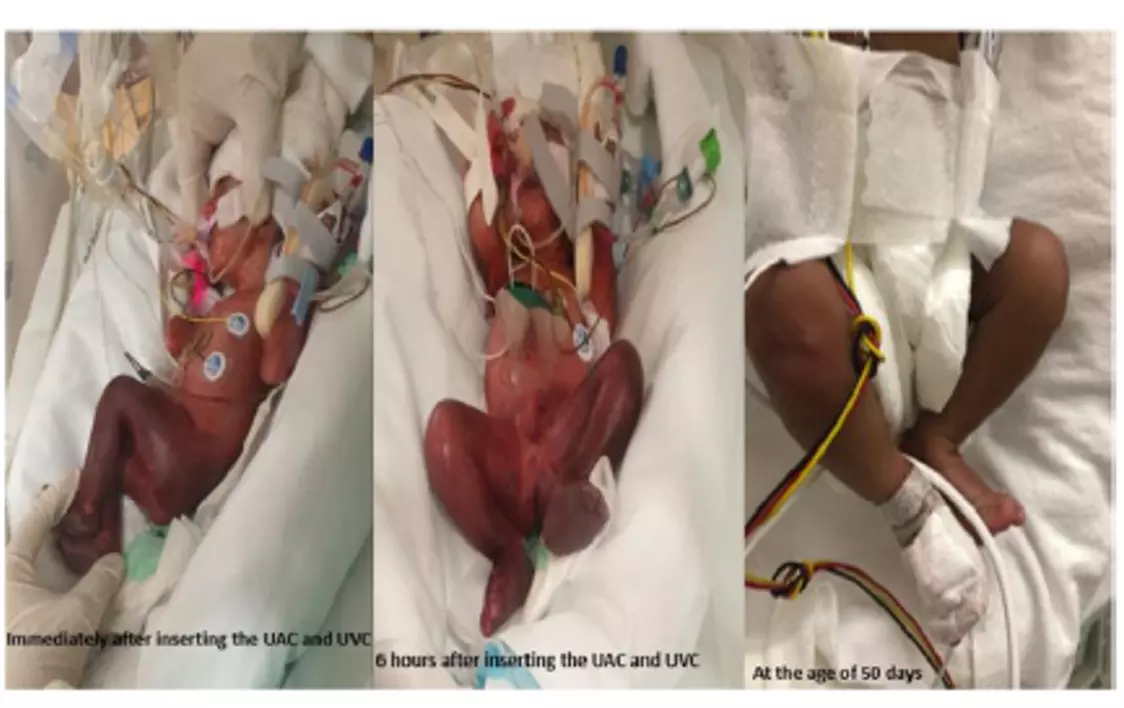 Researchers from Women's Wellness and Research center,Qatar report an interesting case of reversible bilateral lower limb gangrene in a preterm neonate.

A preterm male infant was born to 31 years old gravida 5, para 3 mother at 25 week of gestation. Mother developed preterm premature rupture 2 weeks prior to delivery for which she was given a course of oral erythromycin and also received a course of betamethasone.
At the emergency room she was seen with fully dilated cervix on the day of delivery. On detailed evaluation by obstretic team, a cervical cerclage was found insitu that was compressing umbilical cord leading to faint umbilical pulsations. Hence the team decided to save the infant by releasing cervical stitch.
At birth the neonate had respiratory distress requiring positive pressure ventilation, endotracheal intubation and surfactant administration. Also in the delivery room infant was to have symmetrical blackish discolouration of the lower half of the body with a line of demarcation just below the umbilicus.The distal pulsations were felt equally on both lower limbs.Emergency Doppler of bilateral lower limbs was done and result was normal. The neonatal team considered several serious differential diagnoses including aortic thrombosis or embolism, umbilical arterial thrombosis or embolism, umbilical venous thrombosis, distal aortic or femoral arterial stenosis, septic thrombosis or embolism and congenital hypercoagulable states . Sepsis screen done was negative Head, renovascular and abdominal ultrasound studies did not show any evidence of vascular anomalies, thrombosis, or tortuosity.
As umbilical venous and umbilical arterial catheterization was clinically mandated,based on the equal and strong distal pulsations in both lower limbs as well as the Doppler ultrasound findings, the team decided to insert the umbilical catheters with very close monitoring. Close monitoring showed gradual improvement in the colour of the lower half of the body which started at the age of 6 hours till complete resolution on the third day of life.
Authors conclude-"As a final diagnostic etiology, the neonatal team labelled this patient as a reversible bilateral lower limb gangrene due to umbilical cord compression by the cervical cerclage."
Source: Elmalik EE, Bayoumi MAA. Reversible bilateral lower limb gangrene in a neonate at birth. BMJ Case Rep. 2021 Sep 20;14(9):e243959. doi: 10.1136/bcr-2021-243959.
Source : BMJ case reports