Continuing Seizure Meds Unnecessary in acute symptomatic neonatal seizures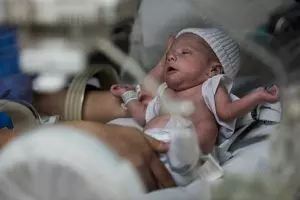 Acute symptomatic neonatal seizures typically remit within 72 hours, infants often have antiseizure medications (ASMs) maintained for months to years because clinicians and parents may be concerned about the risks of continued seizures and early-life epilepsy. However, a recent study suggests that continuing ASM treatment is unnecessary for most neonates and support routine discontinuation of ASMs after resolution of acute symptomatic neonatal seizures prior to hospital discharge. The study findings were published in the JAMA Neurology on May 24, 2021.

Infants are often exposed to ASM (particularly phenobarbital, which is the most commonly used ASM for neonatal seizures) for several months despite the lack of evidence that this exposure prevents epilepsy and despite data that phenobarbital has potential neurotoxic effects and may be associated with lower cognitive scores with long-term use. Therefore, Dr Hannah C.Glass and her team conducted a study to assess whether ASM discontinuation after resolution of acute symptomatic neonatal seizures and before hospital discharge is associated with functional neurodevelopment or risk of epilepsy at age 24 months.
It was a comparative effectiveness study of 303 neonates with acute symptomatic seizures (282 with follow-up data and 270 with the primary outcome measure) from 9 US Neonatal Seizure Registry centres, born from July 2015 to March 2018. The researchers assessed the duration of ASM treatment dichotomized as ASM discontinued vs ASM maintained at the time of discharge from the neonatal seizure admission. They evaluated functional neurodevelopment using the Warner Initial Developmental Evaluation of Adaptive and Functional Skills (WIDEA-FS) at 24 months. They also assessed postneonatal epilepsy outcomes using International League Against Epilepsy criteria and through interviews with parents and medical records.
Key findings of the study were:
Upon analysis, the researchers noted that most neonates (194 of 303 [64%]) had ASM maintained at the time of hospital discharge.
After 24 months, they found that the WIDEA-FS score at discharge was similar for the infants whose ASMs were discontinued (median score, 165) compared with the infants with ASMs maintained (median score, 161).
They noted that the propensity-adjusted average difference was 4 points, which met the a priori noninferiority limit of −12 points.
Also, they found that the risk of epilepsy was similar between the groups (11 per cent for the maintenance group vs 14 per cent for the group that discontinued medications, with a propensity-adjusted odds ratio of 1.5.
The authors concluded, "In this comparative effectiveness study, no difference was found in functional neurodevelopment or epilepsy at age 24 months among children whose ASM was discontinued vs maintained at hospital discharge after resolution of acute symptomatic neonatal seizures. These results support discontinuation of ASM prior to hospital discharge for most infants with acute symptomatic neonatal seizures."
For further information:
https://jamanetwork.com/journals/jamaneurology/fullarticle/2780420
Article Source :
JAMA Neurology