Epidural analgesia not linked to autism risk in offspring: JAMA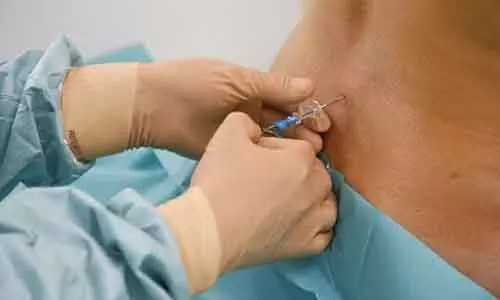 Canada: The use of epidural analgesia for vaginal delivery in mothers is not associated with an increased risk of autism spectrum disorder (ASD) in offspring, a recent study in the journal JAMA Pediatrics has revealed.
Epidural labor analgesia (ELA) is being used commonly and is known to improve outcomes for both neonates and mothers but recent studies have show ELA to be associated with increased autism risk in offspring. Whether this finding may be explained by residual confounding remains unclear. Elizabeth Wall-Wieler, University of Manitoba, Winnipeg, Manitoba, Canada, and colleagues, therefore, aimed to assess the association between ELA and offspring risk of ASD.
For this purpose, the researchers performed a longitudinal cohort study that included vaginal deliveries of singleton live infants born from 2005 to 2016 from a population-based data set linking information from health care databases in Manitoba, Canada. Offspring were followed from birth until 2019 or censored by death or emigration.
The study included more than 123,000 infants; about 38% were exposed to epidural analgesia during delivery, and approximately 80,000 had a sibling in the study cohort. Mothers were a mean age of 28 years.
Key findings of the study include:
38.2% were exposed to ELA; 2.1% of exposed vs 1.7% of unexposed offspring were diagnosed with ASD in the follow-up period (hazard ratio [HR], 1.25).
After adjusting for maternal sociodemographic, prepregnancy, pregnancy, and perinatal covariates, ELA was not associated with an offspring risk of ASD (inverse probability of treatment–weighted HR, 1.08).
In the within-siblings design adjusting for baseline covariates, ELA was not associated with ASD (inverse probability of treatment–weighted HR, 0.97).
Results from sensitivity analyses restricted to women without missing data who delivered at or after 37 weeks of gestation, firstborn infants only, and offspring with ASD classified with at least 2 diagnostic codes were consistent with findings from the main analyses.
"In a Canadian population-based birth cohort study, no association between ELA exposure and an increased offspring risk of ASD was found," wrote the study authors.

"Given that ELA is widely accepted as a standard for labor analgesia, these findings led to widespread public and scientific concern. It thus comes with some relief that Wall-Wieler et al found no association when controlling for key maternal sociodemographic and perinatal factors. But does the finding of the absence of evidence put this issue to rest?" editorialists showed concern in an accompanying editorial.
Reference:
The study titled, "Association of Epidural Labor Analgesia With Offspring Risk of Autism Spectrum Disorders," is published in the journal JAMA Pediatrics.
DOI: https://jamanetwork.com/journals/jamapediatrics/article-abstract/2778776
Source : JAMA Pediatrics