Pfizer and Allergan: The biggest Merger of all times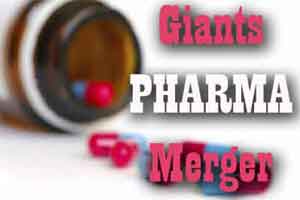 A whopping $150 billion amount will form the world's largest pharma entity; after
Pfizer
Inc
.
 and
Allergan
PLC board members likely to strike the blockbuster deal soon. This partnership between two mega giants in the
pharma
industry will make 'it' the largest drug maker by sales.
Also read:
Pfizer in merger talks with Botox-maker Allergan
In order to boost the investor confidence, and ease the pressure, Pfizer has been striking deals including, three more sizeable deals since 2000. Pfizer last month paid $15 billion to acquire US rival Hospira Inc.
Also read: 
Would Pfizer Buying GlaxoSmithKline Make Sense?
This expected deal will give it a sharp edge over all other moves in the past, as buying Allegran will add to its brand and product portfolio. It will also allow Pfizer, the world's second-biggest drugmaker by revenue, to surpass Switzerland's 
Novartis
AG and regain the industry's top spot, as confirmed an international newspaper report.
Pfizer is the pharma company which produces the high-selling drugs like and
Lipitor
. However, the company has been facing stiff competition from the generics drugs business. Infact, it is expected to cut Pfzier's sales by $28 billion from 2010 through next year.
Also read:
Buying Allergan would add its brand-name medicines for eye conditions, infections and heart disease to Pfizer's extensive portfolio of vaccines and drugs for cancer, pain, erectile dysfunction and other conditions. Botox maker Allergan is based in Ireland but runs much of its operations out of Parsippany, New Jersey.
If a deal is reached, it would be the biggest ever merger in health care and the largest "inversion" ever — that's a tax-saving maneuver in which a
U.S.
company reincorporates in a country with a lower corporate tax rate. Inversions have become a hot political topic, raising the ire of lawmakers in Washington and public interest groups.
According to the
ctpost.com
, terms of the deal include 11.3 Pfizer shares for every Allergan share, along with a small cash component. The boards of each company were expected to approve the agreement Sunday and it could be announced Monday.
Pfizer and Allergan representatives declined to comment.