PGI Chandigarh to target setting 300 bedded Sangrur Satellite Centre by December 2019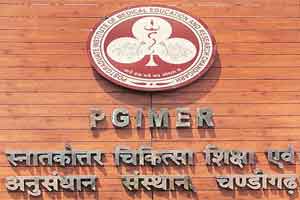 Chandigarh: In a major setback, the Postgraduate Institute of Medical Education and Research, Chandigarh (PGI Chandigarh) has failed to complete project of the 300-bed hospital at Sangrur within the stipulated timeframe. With the deadline being missed, PGIMER has now set December 2019 as the new deadline for the completion of the hospital at its satellite centre.
Recent media reports add that displeased with PGIMER failing to meet the goal, the Health Ministry officials have expressed to impose a fine in case another deadline is missed.
Earlier this year, the Union Cabinet chaired by the Prime Minister Narendra Modi had approved the proposal for transfer of 50.76 acres of land at Sarangpur, Chandigarh to the Postgraduate Institute of Medical Education & Research, Chandigarh (PGI Chandigarh).
The foundation stone for the 500-bedded-satellite centre at Sangrur was laid back in 2013 by the Punjab government, with a total allocation of 25-acre land for the institute. The centre was planned to be started with a 300-bedded hospital in the first phase, and also support medical and surgical departments with a facility of residential quarters for faculty and staff.
The centre will help offload patients' burden on PGI Chandigarh and benefit in screening OPD patients, triaging the patients and managing them optimally.  Cancer management research & Palliative care would be provided under one roof beside setting up of Learning Resource Centre (LRC) and Multi-Level Parking etc.
Also Read: Cabinet Approval: PGI Chandigarh transferred 50.76 acres of land at Sangrur
Despite the construction work going on from the past six years at Sangrur, the project remains  incomplete as of now. As per a recent media report in HT, the PGIMER administration has stated the reason for the delay in completion of the project as lapses on the part of the Hospital Services Consultancy Corporation (HSCC).
This the second time that PGIMER has furnished an explanation over the lag in the project. In March, during the standing finance committee (SFC), chaired by the union health secretary, Preeti Sudan, the administration informed the committee that the project will be completed by September. The administration also showcased the status of the project via the program evaluation review technique (PERT) charts. Following this, the committee directed PGI Chandigarh to send a monthly report of the project and ensure its completion by September.
In July, 2nd  SFC meet was held, wherein, the committee instructed the administration to up its monitoring procedures for early completion and also to revise the PERT charts, as it did not incorporate sufficient details.
However, it was unable to complete the project in September as committed to the Health Ministry earlier.
Also Read: PGIMER to start temporary OPD's in Sangrur district of Punjab
Commenting on the same, PGI Chandigarh, Director Dr Jagat Ram told HT. "We have issued strict directions to the HSCC for completion of the project by December."