PGIMS Rohtak releases 153 Vacancies for Senior/Junior House Surgeons post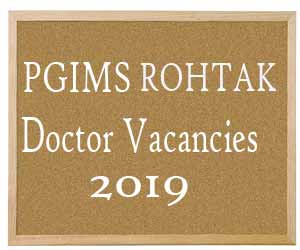 Rohtak- The Post Graduate Institute of Medical Science (PGIMS Rohtak) has released 153 Vacancies for Senior/Junior House Surgeons post. The Selection will be done based on interviews.
Pt. B.D.Sharma, PGIMS, Rohtak is situated at a distance of about 240 km from Chandigarh and about 70 km from Delhi on Delhi-Hissar-Sirsa-Fazilka National Highway (NH-10). It is the only major Institution for Medical Education and Research and a tertiary care center for provision of specialized health care = services not only to the people of the State of Haryana, but also to those from Punjab, Rajasthan, Delhi and western U.P. The Institute was started under the name of Medical College, Rohtak in the year 1960. For the first three years, the students were admitted to Medical College, Patiala which acted as a host Institution. In 1963, the students were shifted to Rohtak.
Vacancy Details:
Total no of vacancies: 153
Last Date of Application: 16th December 2019.
For more details about Qualification, Age, and Pay Allowance and much more, click on the given link:
https://medicaljob.in/jobs.php?post_type=&job_tags=PGIMS+vacancies&location=&job_sector=all
What are the Instructions?
1. The selected candidates will have to deposit the security of Rs. 10000/- refundable security for each session exclusively and separately for House Job. The selected candidates who fail to deposit the security on the day of the interview/counseling his/her selection will be canceled without assigning any reason.
2. The candidates selected in 1st counseling who do not join the depth within 2 days of the issue of the appointment letter will not be considered for the 2nd counseling and till the end of a session. They will be declared as defaulter for the current session.
3. The candidates who remain absent willfully for more than 07 days, his/her services may be terminated and no opportunity will be allowed for re-joining.
4. The vacancies falling off and on account of resignation /termination etc. will be displayed on the notice board as well as the website of the institute.
5. Incomplete application forms will not be entertained and will be rejected.
6. Pay Scale/ emoluments of Jr./Sr House surgeon shall be subject to approval of Govt. of Haryana.
7. That the resignation tendered by the house surgeon will be considered if there is any genuine reason with 15 days advance notice or after depositing 15 days' salary.
8. The security of house surgeon who leaves the session before the end of six months' duration will be forfeited.
9. If any seat falls vacant due to any reason, the vacancy will be filled up from the present merit list.
Raed Also: APPLY NOW: AIIMS Jodhpur releases Vacancies for Senior Resident Post in 35 Specialities