Pharma D can now use DR prefix, Doctors cry foul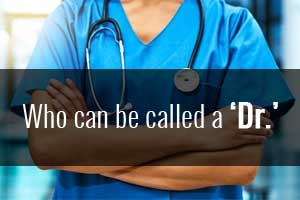 Nagpur: Controversy has erupted within the medical fraternity following the decision of Pharmacy Council of India (PCI) to grant "Dr" prefix to all Pharma D degree holders. While the Pharma D students have welcomed the move, the doctors have claimed that Pharmacists using the "doctor" tag will only create confusion in the minds of patients
Pharm D is a 6- year doctorate level course, including five years of academic study and a year of internship or residency. It is offered by a variety of public and private universities in India
Through a recent decision, the Pharmacy Council of India made it clear to allow Pharm D ( Doctor of Pharmacy) to use the prefix of "Dr" from now on. The confirmation of the said decision of the PCI came via letter received by the Director of the Board of Examination and evaluation of Sant Gadge Baba Amravati University which stated, "PCI has taken a decision of prefixing 'Dr' before the name of the candidate who are awarded Pharm D degree. All the universities and examining authorities approved by the PCI are requested to use this prefix while awarding degree certificates."
The Council wrote to the government universities all over the country to add the prefix to the names in the certificates of those students who completed their degrees in Pharm D. Majority of the private universities added the prefix 'Dr' before the degree as per the direction of the PCI, but few government colleges showed unwillingness to add the prefix.
Dispensing medications by compounding, packaging, and labelling pharmaceuticals is one of the jobs of a pharmacist, it will only be confusing for patients when they see the doctor title with the pharmacist.
The council had earlier intimated its decision to all the universities approved by the PCI under section 12 (2) of the Pharmacy Act 1948 to conduct examinations for Pharm D to use the prefix Dr before the names of passed out students while awarding certificates under Regulation 18 of the Pharm D Regulations 2008.
As universities in the state were not issuing degrees with 'Dr' prefix till now, members of Doctor of Pharmacy Association of Maharashtra had approached the PCI for a clarification.
Vinayak Bhagwat Ghayal, president of Doctor of Pharmacy Association, Maharashtra told the 
TOI
, "We have been pursuing this issue from the last two years. When university authorities told us that they don't have written directives from the PCI regarding the 'Dr' prefix, we wrote to PCI. On May 24, the PCI issued a letter in this regard."
Read Also: Medical Msc; Pre,Para Clinical Degree holders can become HoDs: HC tells MCI
A Pharm D student told the daily, "There are several pharma related courses right from diploma (D Pharm) to PG degree (M Pharm) in India. But the Pharm D is the biggest as it includes five years of study and one year of internship or residency. The 'Dr' prefix will differentiate us from the other pharma degree holders. We will get our due recognition in the job market."
Doctors, however, pointed out that a "Dr" tag to pharmacists will only create confusion with patients now thinking that a pharmacist may be approached for prescriptions as well. " Doctors prescribe and pharmacists dispense. The demarcation is currently clear. Allowing the prefix "dr" to pharmacists is bound to create confusion in the minds of gullible patients who might begin asking the pharmacists for medical advice and prescriptions. " Dr Arvind Chopra, Delhi Medical Association told Medical Dialogues
"There are long term allegations that many pharmacists, having little knowledge to dispense the medicine also attempt at prescribing the medicine and now if the differentiation between prescription and dispensing is lost, This would further propagate the menace of quackery, " he added