PM Narendra Modi honours Senior Cardiologist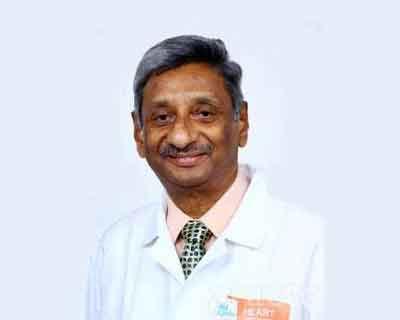 Chennai: Padmashri Dr I Sathyamurthy, Senior Interventional Cardiologist at Apollo Hospitals Chennai, was recently awarded the "D. S. Kothari Memorial Gold Medal for 2016-17" by honorable Prime Minister Narendra Modi.
The D. S. Kothari Memorial awards are given to distinguished Scientist of the Country in recognition of their outstanding contributions and are presented at the inaugural function of the Annual Session of the Indian Science Congress Association.
During the inauguration of the 104th Indian Science Congress held at SV University Tirupati recently, Mr Narendra Modi acknowledged the contribution made by Dr Sathyamurthy in the field of medicine and conferred the prestigious award to him.
On receiving the D. S. Kothari Memorial Gold Medal for 2016-17, Dr I Sathyamurthy, said, "It is an honour to receive this award from our Hon Prime Minister and the prestigious Indian Science Congress Association. It is commendable that this award for academic work recognizes contributors from all sectors, proving a point that corporate hospitals do encourage their doctors in academic work for the growth of respective fields of study in our country."
Present on the occasion were Andhra Pradesh Chief Minister N Chandrababu Naidu, Governor E S L Narasimhan, Indian Science Congress Association (ISCA) general president D Narayana Rao and other dignitaries from ISCA, prominent scientists and industry experts from across sectors. The inauguration also saw Five Nobel laureates and several scientists who were felicitated for their achievements and contribution to the field of sciences. With 'Science and Technology for National Development' as the focal theme of this year's Indian Science Congress, a large number of delegates from across countries took time off their busy schedule to learn and participate in the knowledge sharing sessions of the conference.
Dr I Sathyamurthy is currently the Director of Cardiology at Apollo Hospitals, Chennai. He is also the Senior Interventional Cardiologist at Apollo. He obtained his DM Cardiology degree in March 1980 from GB Pant Hospital, New Delhi. He obtained his Fellow of American College of Cardiology (FACC) in March 2002, and is among the few physicians in the country to hold a double Honorary Fellow of Royal College of Physicians (FRCP) from Edinburg and Glasgow universities.
Post his DM Cardiology, Dr Sathyamurthy joined C.M.C. Hospital, Vellore as Senior lecturer and was later promoted as reader in Cardiology. In 1984, he moved to Apollo Hospitals, Chennai, as Consultant Cardiologist and is presently the Director of the department. He has 36 years of teaching experience after his DM Cardiology, and was the Honorary Cardiologist to the former President of India H.E. Shri K.R. Narayanan from 1993 to 2002.
He has published 240 papers in national and international journals including chapters in textbooks and monograms. He was conferred Padmashri in January 2000, and was awarded the Dr. B. C. Roy National Award in the year 2001 for his best talents in developing the specialty of Cardiology. He has also received the Tamil Nadu State Council for Science and Technology Award (TANSA) in 2010, Best Doctor Award by Tamil Nadu Dr M G R Medical University in 2011, and Lifetime Achievement Award by Tamil Nadu Dr. MGR Medical University in September 2014, for his contributions to medical sciences.