PM Narendra Modi lays foundation stone of AIIMS in Punjab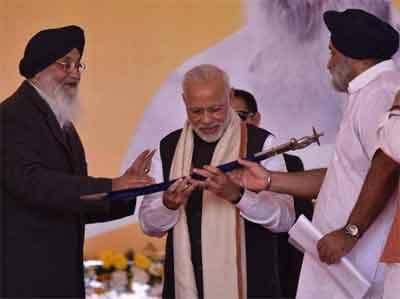 BATHINDA:  The Prime Minister, Shri Narendra Modi,  laid the Foundation Stone of the All India Institute of Medical Sciences (AIIMS) at Bathinda in Punjab.
The 750-bed hospital and institute will be built at a cost of Rs 925 crore and will be spread over 200 acres.
 The AIIMS project will cater to south-west Punjab, comprising the districts of Bathinda, Mansa and Sangrur where cancer and other diseases are widely prevalent.
The institute, which will be completed in two years, will also cater to the needs of the people in adjoining areas of Haryana and Rajasthan.
Bathinda is the Lok Sabha constituency of Union Food Processing Minister Harsimrat Kaur Badal
Speaking on the occasion, the Prime Minister said that social infrastructure is essential for the development of every nation, and therefore, we need top quality schools and hospitals. He said that the AIIMS at Bathinda will benefit the local areas. He emphasized that this Union Government does not stop at laying foundation stones, and ensures completion of projects. Timely completion of projects is a priority for us, he added.
The Prime Minister said that Pakistan now knows fully well what the Indian Army is capable of. He called upon the people of Pakistan to tell their rulers to fight corruption and fake notes.
The Prime Minister said that the Union Government will do everything it can, to give enough water to the farmers. Water that belongs to India cannot be allowed to go to Pakistan, he added.
The Prime Minister said he is doing everything possible to ensure that the middle class is not exploited and the poor get their due.