Preparing for USMLE? Check out the Frequently Asked Questions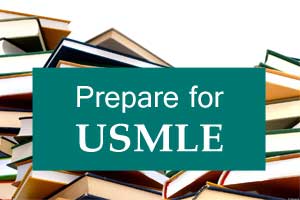 The United States Medical Licensing Examination (USMLE) is a three-step examination for medical licensure in the United States. It is a gateway for all Indian doctors who wish to pursue their future career in Medicine in the United States of America.
Divided into three steps, it requires both handwork and Consistency by aspirants. With many indian students preparing for the exam, even from their first day of medical school, it is important that aspirants are aware what they are in for while preparing for the exam.
So here are some Frequently asked Questions regarding USMLE exam
Q) What IS USMLE?
USMLE is a licensing exam that enables medical students/ Doctors to get into a residency program or MD in the Unites states of America. It can be taken by any MBBS graduate from anywhere in the world provided your college is recognized by the World directory of medical schools.
Q) How many times is the USMLE Exam held?
USMLE is taken in 3 parts of which 2 parts Step 1 and Step 2 CK ( clinical knowledge) is taken in India or your home country. The Step 2 CS or (clinical skills) is taken in USA only.
USMLE is held throughout the year except the first 2 weeks of January. After registering, for the exam a Student can choose the date he/ she would like to take the exam.
Q) How soon should a student aspiring for USA start preparing for the steps?
The first step can be earliest taken in the 3 rd professional year of medical school hence the earlier students starts preparing the better it is. The first year itself is an ideal time to make a schedule and timeline for your journey towards US residency.
The Step 2 CK and CS are ideally taken in the internship Year.
Once you complete all 3 steps, you get ECFMG certification that is required for residency application.
There is no age limit for applying for a residency, so anyone at any stage in their career can try for a residency in USA.
Q) What is the exam pattern?
Step 1:
Most Important Step Subjects :
Basic mechanisms and principles
Anatomy (Gross +Histology/Embryology,Neuroanatomy)
Physiology, Pathology + Pathophysiology
Immunology and Microbiology
Biochemistry
Pharmacology
Stats, Epidemiology and Psychiatry*
8 hour exam total 280 questions taken in 7 blocks of 1 hour each..
Minimum Passing Score is : 194
Step 2 Ck :
Clinical sciences Exam with Medicine, Surgery, Obgyn , Pediatrics, Psychiatry and Behavioral Sciences
9 hour exam with 318 questions taken in 8 blocks of 1 hour each
Passing score: 209
Step 2 CS:
Step 2 CS uses standardized patients to test medical students and graduates on their ability to gather information from patients, perform physical examinations, and communicate their findings to patients and colleagues.
Taken in USA in 5 centers.
It's a Pass/Fail exam
Q) How much is the current MBBS coursework in India, in line with the preparation of USMLE?
Subjects are the same but the exam question pattern is different. It is a clinical based testing pattern even in Step 1 and an application based exam. Student has to use their clinical application in the Basic sciences questions and pathophysiology in the Clinical exam. Hence the training for a US based exam is completely different and cannot be taken along with training for an MD/MS in India.
Q) How is it an alternative to PG in India?
Giving all the steps of USMLE allows you to get an ECFMG certification which also helps with Licensing of places like New Zealand Dubai.
It cannot be used as an alternative to PG in India. The student should be prepared to choose which country they want to practice medicine. And decide which exam is the best suited for them.
After Post graduation in India you can try for fellowship in the USA also to better your stature in India. You will need the ECFMG certification to pursue fellowship too.
Q) I am a first year student. What is the best time to start preparation for USMLE?

The earlier you start the better it is. It is always better to make up your mind on your intent to do a residency in USA as early as possible. The Step 1 exam can be taken earliest in your 3rd year. So,gearing up for it from the first year sets you apart and gives you tremendous leverage.
Q) As a foreign medical graduate, what should I do to take my residency in the USA? How do I obtain USCE and LORs in the US for the purpose of medical residency?
Firstly, you have to make up your mind and decide which is the place you would want to settle and practice. It is advisable to apply for a few weeks observership in USA at any stage during your MBBS to understand the working there. It helps you to make up your mind firmly.
For a US residency you need to be a well-rounded professional. You need to work on your CV and of course your scores. The earlier you apply for electives and externship the better will be your chances of getting them. We will be guiding you through the entire process and will help you with the paperwork too.
Q) What residency programs are best for an IMG?
Whichever subject you want to work in, should be the goal for your residency. The more competitive programs are surgery, radiology, Obgyn.
Internal medicine, family medicine, pediatrics, psychiatry, neurology are some of the popular programs that IMGs have managed to get a residency in.
Q) How do I get into a surgical residency programs in US, as an IMG?
The most important thing is to plan early. Scores are a default as cut-offs are high for surgical programs. They expect a good CV showing inclination towards surgery. LORs for clinical experience as well as research experience is almost mandatory for the same.
You also will have to also apply for a transitional year to be able to match into surgical programs
Q) International medical graduates: how much did it cost you to land a residency spot?
All Exams 3 steps cost about $3700
Externships and travel &living cost in the USA for about 2-3 months could cost you between $5000 and $7000
On the whole, the total amount you spend could be anywhere between Rs. 10 and12 lakhs.
Q)How can Dams help me with my preparation for USMLE?
Our classroom program enables you to interact with your faculty and classmates for 18-20 weeks of live lectures. That's over 300 hours of expert interaction! We provide you with course notes and an online Question Bank with over 2500 questions along with two full-length exams.
Dams has live faculty delivering a face-to-face teaching program for USMLE. This program is one-of-its-kind in India that comes combined with the benefits of the excellent teaching system that DAMS has tested and perfected over the last two decades in its PG courses in India. This is the only live lecture program that has been generating fantastic results over the last three years now, consistently.
Q) How is it different from the rest of the available preparations?

Not only will you have lectures from expert faculty but you will also have guidance throughout your applications process for Electives/Externships. The comprehensive guidance continues with the exam application and finally the residency application too.
Our expert counselor will help you get through all the steps with confidence and ease that will make your journey very simple and the outcome, positive.
Q) Until what stage will you help us with the USMLE and residency Pathway?
We will be with you all throughout your journey, right from the first day of your preparation until the day you join your residency and if need be even after that.
Q) What is your success rate?
We have a 100% pass rate and 90% of our students have scored a 3 digit of over 245. Our highest scorer is 259, a 3rdyear Student from Kolkata. One of our students has matched into a coveted radiology program last matching season.
The Author is faculty with Delhi Academy of Medical Sciences (DAMS).You can reach her by email at usmle@damsdelhi.com
Dr Mala Srinivansan
MBBS, MS, Course Director
DAMS USMLE Program
For more information click here; http://usmle.damsdelhi.com/
For query;
usmle@damsdelhi.com