President increases retirement age of CHS doctors to 65 from 31st May, 2016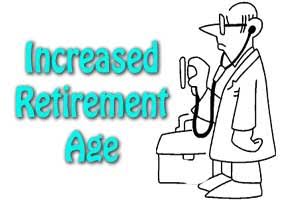 CHS Doctors to now retire at 65
New Delhi: Consequent to the Prime Minister Modi's announcement on 26th May, 2016 promising to increase the retirement age of doctors working with the government, the President Of India, Pranab Mukherjee today approved the administrative order bringing it to effect.
The order clearly states:-
The President is pleased to enhance the age of superannuation of the specialists of non-teaching and public health sub-cadres of Central Health Service and general duty medical officers of CHS to 65 years with immediate effect
As the order clearly states,
with immediate effect
, implying all those doctors who were due for retirement from 31st May, 2016, will be eligible for continuation in government service for another few years.
PM Modi had earlier made the announcement, stating "
Be it at Central level or state level, now retirement age of doctors will be increased to 65
." The had created indeed a strong divide in the medical fraternity, who debated on the right age superannuation for doctors in the country. While the doctors who were already "
on the job
" welcomed the decision, the young job aspirants to the government medical sector called it a "
Steal of opportunities
." There were also some who advocated that increase of superannuation should be only for those who work in the rural areas.
Medical Dialogues conducted an opinion pole in this regard, and found there was no uniform consensus. While 43.75% voted 65 to be the right age for retirement, 28.13% wanted it to be lesser. Yet another 28.13% wanted this number to be even higher than 65.
Having said all, Union Minister of Health and Family Welfare J. P. Nadda welcomed the decision stating that this step will empower the Government to strengthen the healthcare sector in the country.
"It will help in providing additional doctors in the health pool of the country," he said.
Nadda added that this will strengthen the efforts of the Ministry in conceptualising and rolling out various people-oriented schemes which l need the services of doctors in implementing them.