Private blood bank launched in Narayana Hospital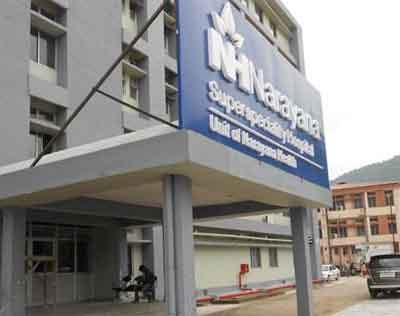 Howrah: A private blood bank along with transfusion service was launched at the Narayana Super speciality Hospital.
Inaugurating the blood bank in the hospital premises, West Bengal Cooperation Minister Arup Roy said that patients in the district would be immensely benefited from this service.
Speaking on the occasion, R Venkatesh, Zonal Director (East), Narayana Health said that the hospital offered comprehensive Cancer Care with organ specific treatment in addition to Cardiac Sciences facilities and various other tertiary care specialties, all of which required huge support of services from the Transfusion Medicine and blood bank department during surgeries or other procedures.
Housed under the Department of Transfusion Medicine, the blood bank is equipped with the latest equipments and state-of-the art technology that will be functional round the clock, Venkatesh said.
Dr Emmanuel Rupert, Chief of Medical Services, Narayana Health, said the blood bank would use the enhanced chemiluminescence technology in the screening of transfusion transmitted infections like HIV, Hepatitis etc and column agglutination technology for immune-haematology testing.
The transfusion services within the hospital would help patients in arranging blood replacement faster and in acute blood loss situations it can be life-saving, he said.
Akshay Oleti, Facility Director of the hospital said that with the launch of this blood bank, they were aiming at providing safe blood based on 100 per cent voluntary donation by organizing regular camps at our hospital.
"The blood bank is licensed for red cell concentrates, fresh frozen plasma, platelet concentrates etc and at a time when dengue is widespread in the State, the blood bank can help alleviate shortage of platelets," Oleti said.