Privatisation in healthcare sector a failure: Uma Bharti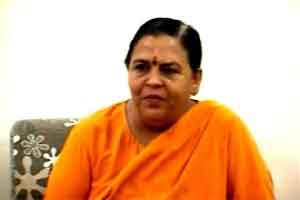 New Delhi: Voicing concern over alleged fleecing of poor patients by private hospitals, Union minister Uma Bharti said privatisation in health sector has been a "failure" and called for improving government component in healthcare services.
Addressing an event here, Union Water Resources Minister Bharti said that on "one or two" occasions she was forced to threaten private hospitals that they will be "blasted" if they did not release patients held back for non-payment of bills.
She also made a pitch for strengthening the government component in healthcare services so that poor people need not rely on private hospitals for treatment.
"(Poor) people come to my place seeking help for medical treatment...How much can we help from the Prime Minister's fund as the hospital fees are to the tune of Rs 10 lakh, Rs 20 lakh...Hospitals keep bodies of half dead or dead people until bills are paid.
"Hospitals threaten them that they cannot take patients (until bills are paid). I had to call up one or two hospitals that they will be blasted if the patient is not released," Bharti said.
The minister made the remarks during the event organised as part of on-going 'India Water Week', where she spoke about role of NGOs in water conservation and also expressed concern over privatisation of health and education sector.
She said privatisation in health sector has been a "failure" until now and said urged Health Minister J P Nadda to focus on improving government component in health sector.
"I tell the Union health minister to focus on this, states too should focus on this, there should be 100 per cent nurses, doctors, no seat should be vacant, so that people need not depend on private sector," she said.
On water sector, Bharti said that NGOs should play an "effective" role by ensuring public participation in conservation of water as she noted that role of governments will not suffice in this regard.
She also lauded Punjab's Seechewal model of waste water management and pressed on the need to share such success stories within the country for water conservation.