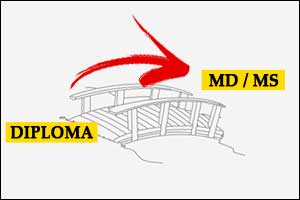 New Delhi: Raising up the issue of the plight of 50,000 plus diploma doctors working with various medical institutes including medical colleges in the country, and being denied due promotions owing to their diploma qualifications, the Medical Postgraduate Diploma Doctors association have now written to the MCI Board of Governors, demanding justice.
The association, a few days ago, also met with the Chairman, Board of Governors, Medical Council Of India and submitted a memorandum in this regard.
Medical Dialogues had earlier reported about the obstacles faces by various Diploma Doctors, who have been working at various medical colleges, performing the duties of specialists, yet being paid on par with MBBS doctors.  Medical Council of India, noting the issue as well as taking in partly the recommendations of the parliamentary committee, and abolished diploma courses & asked medical colleges to surrender their diploma seats & get an equal number of MD/MS seats. But, another part of the recommendations (existing medical professionals with diploma degree working for two years in medical colleges should be awarded degree after submission of thesis) is not yet implemented.
Read Also: Promotion of Diploma Doctors at Medical Colleges: Health Ministry asks MCI Board of Governors to decide
Recently, the Ministry of Health also wrote to the MCI Board of Governors asking them to examine the matter and take appropriate action. Following this, the association representatives also went to the MCI and submitted a memorandum in this regard.
" We met with Dr Paul and apprised him of the drawbacks-diploma doctors face both in terms of promotion and career progression. We have done post-graduation in MCI recognised medical colleges under MCI's approved teaching faculty with same infrastructure and other facilities & got a degree from MCI governed universities, still, we are denied promotions lifelong and we are getting retired on the same post. This is gross injustice one to us."Dr Z. A. Golewale President PG Diploma Doctors Association told Medical Dialogues team
" We also drew his attention to the Parliamentary Standing Committee's recommendations with regard to Diploma Doctors and highlighted that implementation of the same would be beneficial to the entire country, as a large group of qualified specialists will be immediately available for the teaching posts and deficiency/scarcity of the medical teachers will be reduced significantly. Dr Paul has promised to us that MCI BOG will look into the matter and justice will be done," Dr Golewala added
Here are the demands put forward by the Diploma Doctors in the Memorandum.
1. Diploma Doctors working in medical college for more than 10years should be awarded Master degree and promoted to the post of associate professor.
2. Diploma Doctors working for 5-10 years in medical college should be awarded Master degree after submission of thesis and promoted to the post of assistant professor.
3. Diploma Doctors working for less than 5 years and more than 2 years should be awarded master
degree after submission of thesis and 2 research papers and promoted to the post of assistant professor.
4. Doctors currently pursuing their Diploma course should be allowed to continue for one more year and prepare a thesis and they should be allowed to take Master degree examination at the end of 3rd year of their training.
138 comment(s) on Promotion of Diploma Doctors at medical colleges: Association meets MCI BOG, Demands justice