Psychiatric turmoil following Tamoxifen use in Bipolar patient- A case report.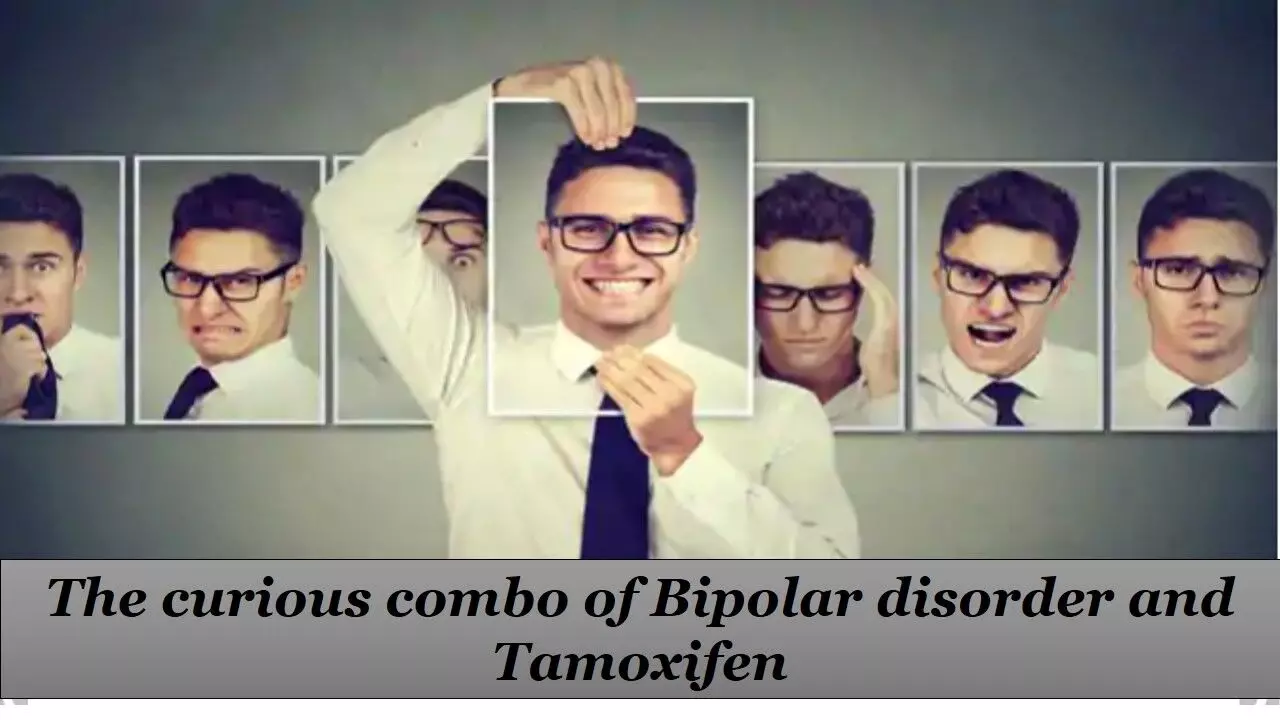 Tamoxifen is a selective estrogenic receptor modulator (SERM) drug. In addition to its common use in breast cancer ER+, Tamoxifen has been object of growing interest in psychiatry as antimanic drug. At the same time, clinical concerns about Tamoxifen's depressogenic effect have been repeatedly raised. Carmassi et al in Hindawi Journal discuss the case of a 45-year-old-male with a diagnosis of Bipolar Disorder type II, who showed increase in suicidality and intractable worsening of his psychiatric condition following Tamoxifen use for his breast cancer. The symptoms reverted with tamoxifen discontinuation.

The main therapeutic indications of Tamoxifen are the treatment and the chemoprevention of estrogenic receptor positive (ER+) breast cancer. In this regard, it is worth mentioning that the antiestrogenic effect of Tamoxifen may reduce the postsynaptic response to serotonin and brain serotonin- and norepinephrine-related activity and antagonise serotonin and acetylcholine effects.
Clinical concerns about the risk of developing depressive symptoms or full-blown depressive episodes during Tamoxifen assumption have been repeatedly raised but studies have shown conflicting outcomes. In addition, while male patients undergoing a Tamoxifen therapy appear to be more likely to develop side effects, including psychiatric ones, they are usually underrepresented in the studies addressing this issue.
The case is of a 45-year-old-male with a diagnosis of Bipolar Disorder type II, treated with Tamoxifen as relapse prevention treatment after surgery for a ER+/HER2+ breast cancer. After about 10 months from the introduction of Tamoxifen, patient showed a progressive psychopathological worsening with increasing anxiety, lower mood, and reduced energy, so that the psychiatrist tried different antidepressants trials (Escitalopram, Trimipramine, Fluoxetine) along with Divalproex, with a partial response.
In the following months, despite several treatment changes were undertaken, patient showed a gradual worsening of symptoms up to an aborted suicidal attempt by defenestration. The patient required two psychiatric admissions in a few-month time span since he showed a progressive worsening of both depressive and anxiety symptoms, with the onset of delusional ideas of hopelessness and failure up to suicidal thoughts.
The clinical picture showed poor response to treatment trials based on various associations of mood-stabilising, antidepressants, and antipsychotic drugs. During the second hospitalization, after a multidisciplinary evaluation, the oncologists agreed on Tamoxifen discontinuation upon the severity of the psychiatric condition. The patient underwent a close oncological and psychiatric follow-up during the following 12 months.
Psychiatric assessments included the Montgomery-Asberg Depression Rating Scale (MADRS), the Hamilton Depression Scale (HAM-D), the Columbia Suicide Severity Rating Scale (C-SSRS), and the Quality of Life Enjoyment and Satisfaction Questionnaire Short Form (Q-LES-Q-SF). All questionnaires were administered at the time of the second hospitalization and in a one-year follow-up. Suicidal ideation fully remitted and depressive symptoms markedly and rapidly improved in the aftermath of Tamoxifen discontinuation.The symptomatological improvement remained stable across one-year follow-up.
This case inserts in the patchy literature of case reports describing the occurrence or recurrence of psychiatric symptoms of a depressive or mixed-depressive nature in patients undergoing a Tamoxifen therapy due to oncological indications.
"The scenario we have observed in the clinical management of our patient, combined with the literature, leads us to suggest that patients with BD, especially male ones, deserve a close psychiatric surveillance while undergoing Tamoxifen therapy", concluded the authors.
Source: Hindawi Journal: https://doi.org/10.1155/2021/5547649