Venlafaxine superior to fluoxetine for depression in post-menopausal women, study.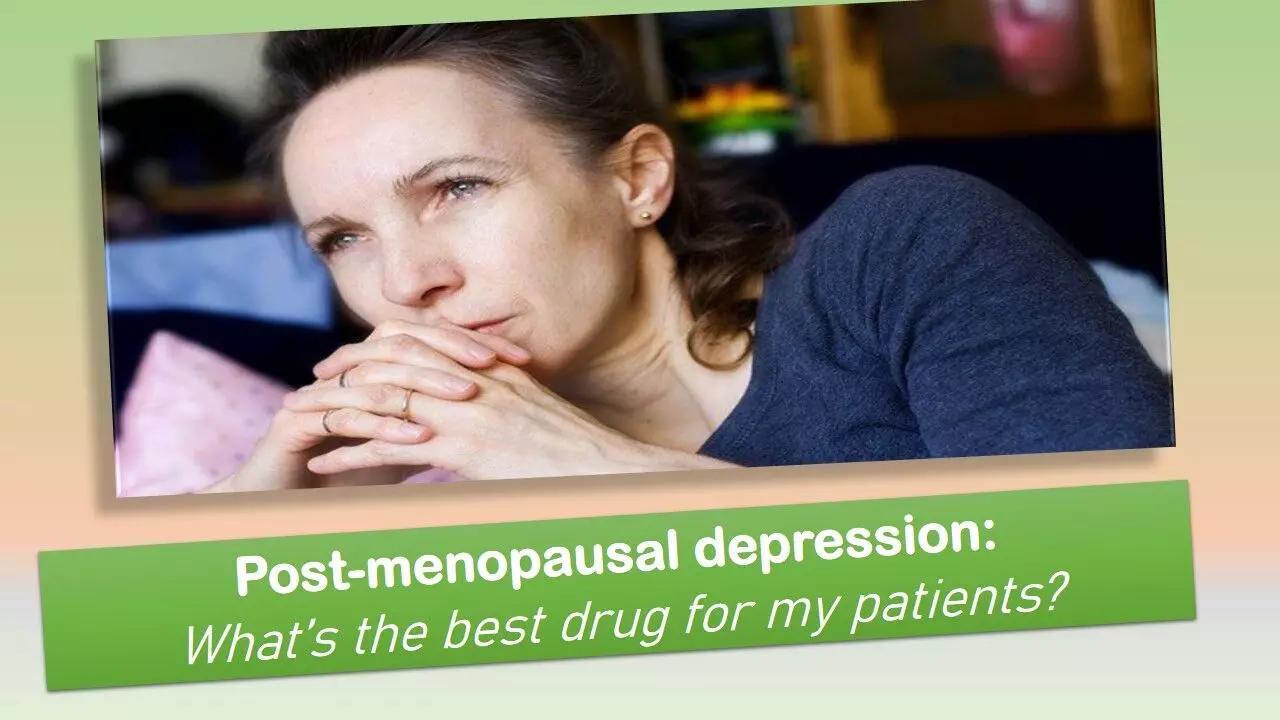 Postmenopausal women are at significant risk for depression with studies showing that about 5.7% women are diagnosed with major depressive disorder (MDD) after menopause. Treatment usually includes pharmacological therapy with antidepressants, such as selective serotonin reuptake inhibitors (SSRIs) and serotonin-norepinephrine reuptake inhibitors (SNRIs), but a head-to-head comparison of the two drug classes has not yet been studied.
Zhou et al in a randomized, single-blind trial compared the efficacy of venlafaxine (SNRI) and fluoxetine (SSRI) in postmenopausal women with MDD. The trial results published in BMC Psychiatry journal now suggest that Venlafaxine was well tolerated and compared to fluoxetine, it led to a greater improvement in the treatment of postmenopausal MDD.
This was an 8-week, multicenter, randomized, single-blind, active-controlled trial. The primary outcome measure was improving depressive symptoms (Hamilton Depression Rating Scale (HAMD-24) score). The secondary outcomes included the change of HAMD-24 anxiety/somatization factor score and Clinical Global Impressions-Improvement (CGI-I) response rate.
Safety was assessed by treatment emergent adverse events (TEAEs) and laboratory tests. Efficacy was analyzed by using the full analysis set (FAS) following the modified intention-to-treat (mITT) principle.
Researchers found that over the 8-week study period, the reduction in HAMD-24 scores was significant (P < 0.001) in both groups, while a significantly greater decline from baseline was observed in the venlafaxine group compared with the fluoxetine group (least-squares mean difference [95% CI]: − 2.22 [− 7.08, − 0.41]), P = 0.001).
The baseline to-week-8 least-squares mean change of the anxiety/somatization factor scores, CGI-I response rate were greater in the venlafaxine group than in the fluoxetine group (all P < 0.05).
The most frequent TEAEs (≥5%) in both groups were nausea, somnolence, dizziness, headache, and dry mouth. There was no significant difference in the incidence of adverse events between the two groups.
The results suggested that venlafaxine was well tolerated, leading to greater improvement than fluoxetine in the treatment of postmenopausal MDD. The safety profile was comparable between the two groups.The results provide some clues to optimize antidepressant pharmacotherapy for postmenopausal MDD.
Source: BMC Psychiatry: Zhou et al. BMC Psychiatry (2021) 21:260 https://doi.org/10.1186/s12888-021-03253-8