Puducherry: Govt may introduce Acupuncture in government hospitals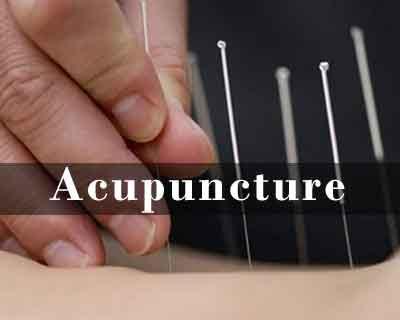 Puducherry: The Puducherry administration is exploring the possibility of introducing Acupuncture treatment in government hospital in Puducherry by training Indian system of Medicine (ISM) doctors.
National Rural Health Mission(NRHM) doctors as well as Physiotherapist , according to Dr K V Raman, Director of Health and Family Welfare.Dr.Raman revealed this after holding discussions with Padmashree Dr Raman Kapur , President of Indian Society of Medical Acupuncture and Chairperson, Department of Acupuncture at Sri Ganga Ram Hospital, New Delhi.
Talking to media, after a presentation on Acupuncture course for medical doctors at Jipmer along with his wife Dr.Sunita Kapur,he stressed the need for introduction of acupuncture as an alternate mode of treatment in government hospitals in the country, so that the benefits of the treatment can reach common man. He said that acupuncture can be practiced by doctors to provide relief and cure in various medical conditions , where allopathic medicine is ineffective or has no cure.
Acupuncture is very effective in grey areas like management of pain in cancer, migraine, cervical spondylosis , low back pain , managing pain after surgery in post operative care, bronchial asthma, frozen shoulders , rheumatoid arthritis, irritable bowl syndrome and anxiety .
It is also effective to cure allergy, addiction and drugs, pregnancy to convert breech presentation to normal presentation , infertility, pelvic inflammatory diseases and leucorrhoea.
It is also highly effective mode of treatment during pregnancy when several allopathic medicines cannot be prescribed, said Dr Kapur.Generally acupuncture is effective as single mode of treatment, but in some diseases it is used as a supplementary therapy.
The treatment is also cost effective as compared to allopathic treatment.Doctor said that Ministry of Health and Family Welfare has recognised acupuncture as a " Mode of Therapy" to be practicised by registered medical practitioners, dentists and Physiotherapist and now there is a requirement for these professional to take up a course for practicising. Dr Kapur who is the Chairman of Institute of Acupuncture and Natural Medicines ,said that a course has been designed following the guidelines of WHO . It will add benefit doctors of various specialities like medicine, orthopedic, anaesthesia, Gynaecology, Physiotherapy and dentistry. The total duration of course will be 1 year, after graduation. The theory course will be online, for the busy practitioners. The practical training will be done by doctors of IANM. They will come to Pondicherry for 30 days in a year (4 times annually ) to conduct the hands on clinical training programme,he added.