Montelukast - Preferred Choice in Long Term Management of Respiratory Allergies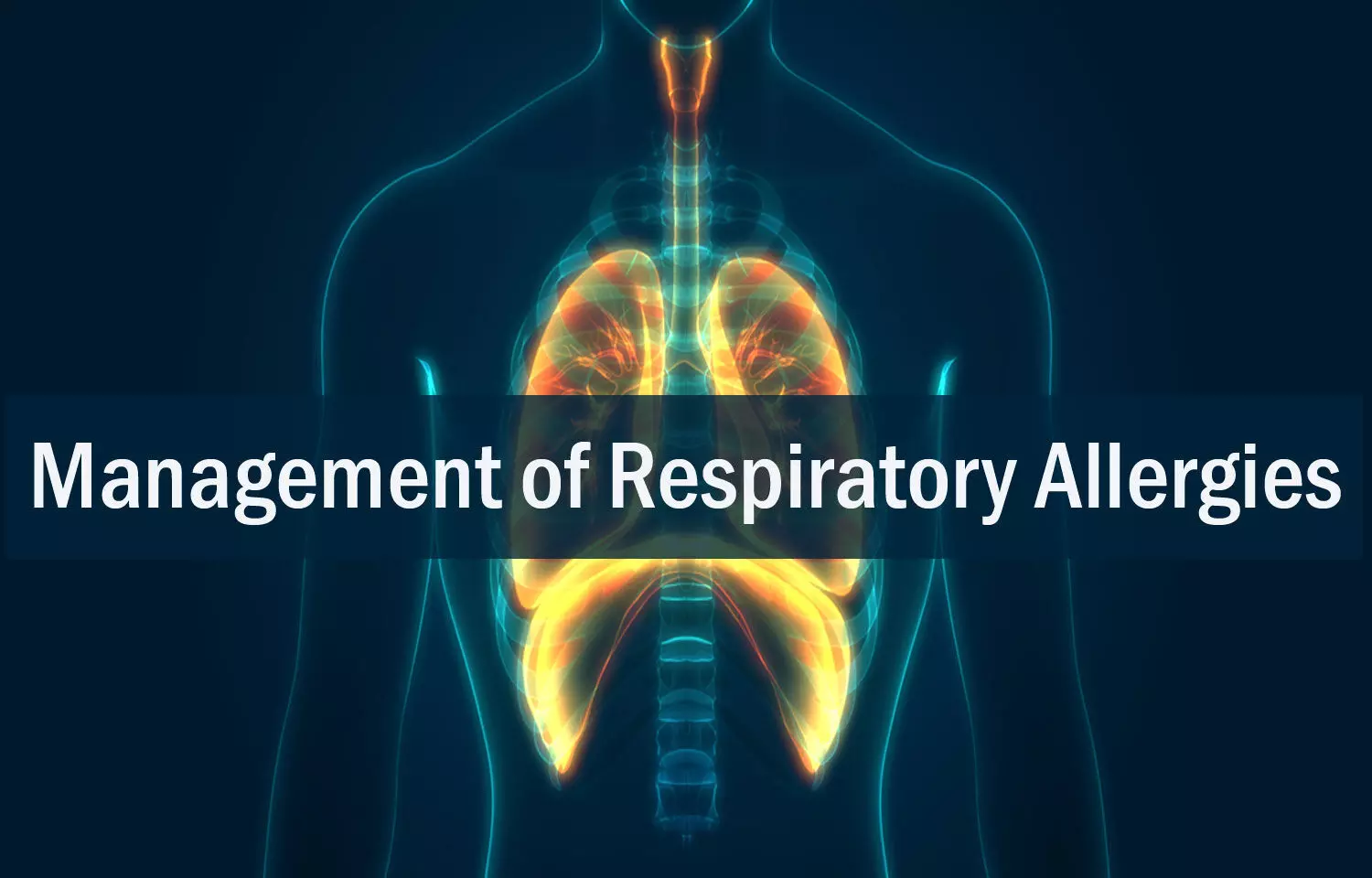 Respiratory Allergies in India - Unique Challenges & Need for Early Interventions An estimated 300 million people worldwide have asthma, with 37.9 million in India, which approximately equals more than half of the total UK population. The burden of asthma in India exceeds the number of people with HIV infection or tuberculosis. Allergic diseases are the results of the complex interplay between genetic and environmental factors, the latter, of specific relevance to our country. India possesses great diversity concerning its weather. There are significant other factors like pollens and fungal spores, insects such as cockroaches, and other precipitators like air pollution, overcrowding, and restricted cross ventilation. The meteorological information regarding environmental allergens is limited. Such variations in conditions and lack of data are further complicated by an absence of access to standardized allergen extracts for skin tests in India, making an accurate allergy diagnosis challenging. (1) Nearly 77% of the Indian population is exposed to an annual weighted mean particulate matter (PM)2.5 levels of >40mcg/m3, a threshold recommended by National Ambient Air Quality Standards, which exceeds the limit set by the World Health Organization (WHO) (<10mcg/m3). PM2.5 levels are particularly high (>125 mcg/m3), in some parts of North India like New Delhi, Uttar Pradesh, Bihar, and Haryana. Exposure to such PM 2.5 over long periods is associated with an adverse impact on respiratory diseases including asthma and COPD.(2)
Asthma and Seasonal Allergic Rhinitis – The Brunt on Quality of Life
An Indian study published by Nikhil Sharma et al, aimed at examining the quality of life scores among patients suffering from allergic rhinitis attending outpatient care. This observational study reported significantly worse non-nose and eyes symptoms scores and emotional well-being scores, indicating the compromised quality of life with females being more affected as compared to males. (3)
Allergic Rhinitis Precedes and Often Overlaps with Asthma among Indian Adults: Need for Prompt Treatment
Sinha B, et al, in an observational community assessment conducted among adults (n=1200) in Delhi reported prevalence of Allergic Rhinitis. Among them 11%; and 33.3% also had asthma. It was noteworthy that more patients with rhinitis and asthma (75%) took treatment, relative to those without asthma (40%). The latter largely relied on complementary medicines and home remedies (42%) or, did not seek any treatment [18%; p = 0.031]. The authors insightfully concluded that the burden of allergic rhinitis is high with considerable concurrence with asthma. It was thus specifically emphasized that these allergic diseases require early and regular pharmacological interventions. (4)
Montelukast – Review of Clinical Evidence & Testimony from Global Guidelines
Montelukast is used in the treatment of both asthma and allergic rhinitis. Montelukast is included in asthma guidelines as an adjunctive anti-inflammatory therapy. (5)
Montelukast 10 mg/day Improves Clinical Symptoms of Asthma and Allergic Rhinitis in the Real World Study: Virchow J et al, conducted a real study to investigate the efficacy and safety of montelukast 10 mg/day in adults with both asthma and allergic rhinitis. Data from 5855 adult patients were collated and analyzed following treatment for 4-6 weeks. Efficacy was evaluated by comparing values of general, day-time, and night-time improvement in asthma symptoms, need for rescue medication or inhaled corticosteroids (ICSs), general and specific improvement in allergic rhinitis symptoms, reduction in rhinitis medication use, and general and specific quality of life (QoL) improvement collected at baseline and end of the observation period of 4–6 weeks. The results of this study showed that 86.5% (n = 4547) of patients treated with montelukast reported a strong or marked improvement in day-time asthma symptoms which included cough, wheezing, chest tightness, and shortness of breath. About 88.5% (n = 4367) reported improvement in night-time symptoms which comprised the above symptoms in addition to reduced nocturnal awakening. A similarly high proportion of patients had a strong or marked improvement in all symptoms of allergic rhinitis i.e. sneezing/itching (84%), rhinorrhea (81.7%), nasal congestion (79.3%), watery eyes (78.4%), and red or burning eyes (77.7%). About ninety-two percent (n = 5685) of all patients intended to continue montelukast therapy. Montelukast was well tolerated with adverse drug reactions reported in only 14 out of 6158 patients; none of the adverse events being serious. It was concluded that montelukast 10 mg is a safe and effective treatment for patients with both asthma and allergic rhinitis in real-world practice settings. (6)
Montelukast Improves Outcomes as Add-on to ICS & LABA therapy: Keith et al. authored an open-label observational study among patients with uncontrolled asthma where it was demonstrated that montelukast is effective for managing asthma and allergic rhinitis symptoms in patients who were previously uncontrolled with inhaled corticosteroids (ICS) or ICS / Long-acting beta-agonists (LABA). (7)
Montelukast Improves Quality of Life when Added to Anti-histamine therapy: Ciebiada et al. published a study comparing the efficacy of Montelukast with or without antihistamine among patients with allergic rhinitis concluded that combining montelukast with an antihistamine significantly improved quality of life compared with using each agent alone.(8) Patel et al. had clinically demonstrated that montelukast reduced perennial allergic rhinitis symptoms during 6 weeks of treatment intervention. (9)
Place of Montelukast in Treatment of Respiratory Allergies: Indian Chest Society (ICS) and the National College of Chest Physicians (NCCP) Guidelines: The Indian Chest Society (ICS) and the National College of Chest Physicians (NCCP) Joint Guidelines' recommendations on the role of anti‑leukotriene agents in the management of stable asthma have cited that, in the management of stable asthma, monotherapy with leukotriene receptor antagonists (LTRA) might be an alternative to ICS in patients with mild asthma if they are unwilling to use ICS or if they are not suitable for ICS therapy. Oral montelukast 10 mg once daily is the most commonly used anti‑leukotriene agent. (10)
Ministry of Health & Family Welfare Govt. of India(MoH&FW-GoV) Guidelines in Otorhinolaryngology: Ministry of Health & Family Welfare Govt. of India Standard Treatment Guidelines in Otorhinolaryngology have recommended regarding consideration of montelukast in Deviated Nasal Septum (DNS) – for the management of associated conditions causing a nasal obstruction which can be treated medically in outpatient settings.(11)
Benefits of Adding Montelukast over Theophylline in Childhood Asthma – Better Effect on Improving Morning Peak Expiratory Flow (PEF)
Naomi Kondo et al published a study assessing the efficacy and safety of montelukast added to low-dose ICS therapy in comparison with sustained-release theophylline added to low-dose ICS therapy among asthmatic children. After a 2-week run-in period, patients receiving treatment with ICS were randomized to treatment for 4 weeks with either montelukast 5 mg once daily or sustained-release theophylline 5-8 mg/kg dry syrup or theophylline 100-200 mg tablet twice daily. Patients also received a fixed dose of ICS throughout the run-in and treatment periods. The primary efficacy endpoint was the change in peak expiratory flow (PEF) from baseline after 2 weeks of treatment. The results of the study reported a significant increase in morning PEF noted in the add-on montelukast group as compared with the add-on theophylline group at end of two weeks (change from baseline of 22.8 L/min vs. 8.7 L/min; p = 0.041 ) and at week 4 (31.0 L/min vs. 9.8 L/min; p = 0.012). There were no significant differences between the treatment groups in incidences of clinical and laboratory adverse experiences. It was concluded that montelukast added to low-dose ICS is an effective and safe option for the treatment of asthma in children. (12)
Practice Pointers
Respiratory allergies remain highly prevalent in India due to various difficult to modify and tenacious environmental factors. (2) It seems established that allergic rhinitis invariably precedes and often overlaps with bronchial asthma, hence the need for early treatment may be prudent. (4) Moreover, allergic rhinitis negatively impacts the quality of life and emotional well-being of patients. (3) Montelukast could be considered of therapeutic utility for the relief of symptoms of allergic rhinitis - seasonal allergic rhinitis in patients older than 2 years of age, and perennial allergic rhinitis among patients older than 6 months of age. (13) Montelukast therapy as an add-on treatment in asthma may lead to better improvement in early morning pulmonary function indices in comparison to theophylline treatment. (12)
References
[1] Krishna MT, Mahesh PA, Vedanthan PK, Mehta V, Moitra S, Christopher DJ. The burden of allergic diseases in the Indian subcontinent: barriers and challenges. Lancet Glob Health. 2020 Apr;8(4):e478-e479. doi: 10.1016/S2214-109X(20)30061-9. PMID: 32199115.
[2] Krishna et al. An appraisal of allergic disorders in India and an urgent call for action World Allergy Organization Journal (2020) 13:100446 http://doi.org/10.1016/j.waojou.2020.100446
[3] Nikhil Sharma et al, To Assess the Quality of Life in Patients Suffering from Allergic Rhinitis, Journal of Basic & Applied Sciences, 2015, 11, 501-506
[4] Sinha B; Vibha, Singla R, Chowdhury R. Allergic Rhinitis: A neglected disease - A community-based assessment among adults in Delhi. J Postgrad Med. 2015 Jul-Sep;61(3):169-75. doi: 10.4103/0022-3859.159418. PMID: 26119436; PMCID: PMC4943409.
[5] Helen Neighbour, Montelukast in the treatment of asthma and allergic rhinitis, Clin. Pract. (2013) 10(3), 257–263
[6] Virchow JC, Bachert C. Efficacy and safety of montelukast in adults with asthma and allergic rhinitis. Respir Med. 2006 Nov;100(11):1952-9. doi: 10.1016/j.rmed.2006.02.026. Epub 2006 Apr 12. PMID: 16626955.
[7] Keith PK, Koch C, Djandji M et al. Montelukast as add-on therapy with inhaled corticosteroids alone or inhaled corticosteroids and long-acting beta-2-agonists in the management of patients diagnosed with
asthma and concurrent allergic rhinitis (the RADAR trial). Can. Respir. J. 16(Suppl. A), 17A–31A (2009).
[8] Ciebiada M, Ciebiada MG, Kmiecik T, DuBuske LM, Gorski P. Quality of life in patients with persistent allergic rhinitis treated with montelukast alone or in combination with levocetirizine or desloratadine. J. Investig. Allergol. Clin. Immunol. 18(5), 343–349 (2008).
[9] Patel P, Philip G, Yang W et al. Randomized, double-blind, placebo-controlled study of montelukast for treating perennial allergic rhinitis. Ann. Allergy Asthma Immunol. 95(6), 551–557 (2005).
[10] Agarwal R, Dhooria S, Aggarwal AN, Maturu VN, Sehgal IS, Muthu V, et al. Guidelines for diagnosis
and management of bronchial asthma: Joint ICS/NCCP (I) recommendations. Lung India 2015;32:3-42.
[11] Hans J M et al, Ministry of Health & Family Welfare Govt. of India Standard Treatment Guidelines Otorhinolaryngology (Ent)
[12] Kondo N, Katsunuma T, Odajima Y, Morikawa A. A randomized open-label comparative study of montelukast versus theophylline added to inhaled corticosteroid in asthmatic children. Allergol Int. 2006 Sep;55(3):287-93. doi: 10.2332/allergolint.55.287. PMID: 17075269.
[13] Innovator Prescribing Information, Montelukast, Brand Singulair, last updated June, 2021 Dr Kamal Kant Kohli-MBBS, DTCD- a chest specialist with more than 30 years of practice and a flair for writing clinical articles, Dr Kamal Kant Kohli joined Medical Dialogues as a Chief Editor of Medical News. Besides writing articles, as an editor, he proofreads and verifies all the medical content published on Medical Dialogues including those coming from journals, studies,medical conferences,guidelines etc. Before Joining Medical Dialogues, he has served at important positions in the medical industry in India including as the Hony. Secretary of the Delhi Medical Association as well as the chairman of Anti-Quackery Committee in Delhi and worked with other Medical Councils in India. Email: editorial@medicaldialogues.in. Contact no. 011-43720751