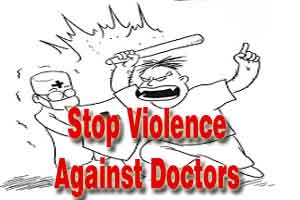 Pune : Two medical residents working at the Sassoon General Hospital, at BJ Medical College were brutally assaulted by the relatives of an alcholic patient that died at the facility. Moreover, to add to the misery the relatives also went and filed an FIR against the doctors, alleging that the doctors threatened them.
The incident goes back to Friday night, when a patient suffering from liver cirrhosis passed away at the hospital. Angry relatives of the patient came to the ward no 15 of the hospital and began assaulting the resident doctors on duty,Dr Abhijit Jawanjal (24) and Dr Sadiq Yunus (30), with the wooden chair as well as the BP apparatus that was lying in the ward.  The assault is reported to have been so brutal that one of doctors now has severe head injury, along with a fracture of the nose
" The patient was in serious condition at the time of admission only. This was duly informed to the family of the patient including his wife. The doctors had followed, due protocol and taken proper consents, wherever necessary. Even after that when the patient didn't survive, the family of the patient began alleging that they had not been informed about the condition of the patient, and then began assaulting the doctors on duty,"informed Dr Kanharam Patel, MARD President, BJ Medical College.
Post the incident the relatives of the patient, now identified as  Tanaji Kondiba Sakat, a rickshaw driver and a resident of Hadapsar then went to the police station and filed an FIR against the doctors.
At the same time, MS of the hospital have filed an institutional FIR under the doctors protection act. Medical superintendent Dr Ajay Taware told Express, "FIR has been registered against the relatives of the patient. There were eight security guards on duty who did not take any action and we are also planning to file a complaint against them."
Incidentally, this incident came just hours after The Maharashtra government informed the Bombay High Court today that it had decided to post four armed policemen round-the-clock at 16 government hospitals in the state to provide security to resident doctors who face the risk of being assaulted by relatives of patients.
Read more at Medical Dialogues: Maharashtra to post 4 armed cops each in state hospitals for doctors
2 comment(s) on Pune : Resident Doctors brutally thrashed post patient's death