Pune: Wearing a Doctors Apron with MBBS tag, 22 year old Steals 30 Vehicles, nabbed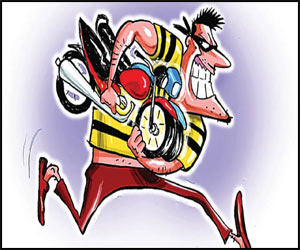 Pune: A 22-year old bluff master who pretending to be a doctor managed to steal as many as 30 vehicles in the area has been nabbed by the city police. The man was disguising himself as a doctor by wearing an apron and carrying medical accessories.
The young vehicle thief, identified as Shahrukh Razak Pathan, a resident of Purandar would roam around in a full doctor's get up to
fake
himself as a doctor of Sassoon General Hospital.
The case was under the scanner as the ascending numbers of vehicle theft cases were reported. The police team from the Faraskhana police station was keeping an eye on the locations from where the vehicles were being stolen. At the same time the police received tip-off regarding the accused. The police further laid down the trap to nab Pathan.
Read Also: Faking Everyday as doctor, 26-year old behind the bars
The police informed that Pathan confessed that he had stolen vehicles from different parts of the city.
Kishor Navande, senior police inspector of Faraskhana police station told
Hindustan Times,
"Pathan, who has studied up to Class 12, has basic knowledge of medicines as he was earlier employed at a medical store. He wore an apron that said 'MBBS' with a red hospital cross on its breast pocket. This added with the fact that people do not generally suspect doctors, gave him a strong cover."
Suhas Bavache, DCP Zone I, Faraskhana police told
Pune Mirror,
"He used to rent a car and go to spots where he had his targets set. He would then disembark from the car and steal bikes and take them to village areas around Pune and sell them off."
The police stated that Pathan mainly stole two-wheelers and he had allegedly stolen two-wheelers from spots that are under 17 different police stations in Pune.  Of the 30 stolen vehicles, 29 are from Pune while one is from Mumbai.
The police further informed that it is being investigated whether he had associates and the module of a sale of these vehicles in order to break the syndicate.