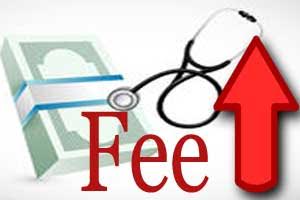 Punjab: Medical students are getting increasingly uncomfortable as all major medical colleges of the state have hiked their fees for UG and PG students.
In the year 2015, the undergraduate fees at medical colleges affiliated to Baba Farid University of Health Sciences (BFUHS), Faridkot including the government colleges of  GMC, Ludhiana, GMC Patiala, as well as Guru Gobind Singh Medical College, Faridkot had been increased from Rs 13,500 per year to a whopping Rs 90,000 per year. Similarly, the postgraduate fees per year at these colleges had been increased from Rs 45000 per year to Rs 1,50,000 per year. Now the application fees to these college has gone up from Rs 4000 to Rs 8000.
The move, apart from having an impact on the current students studying/working at the college, will also have an impact on many medical aspirants who are gearing up for coming  PMET exams scheduled on 15th May, 2016. With higher application fees, students from a weaker backgrounds will be having major difficulties in applying to these colleges.
The reasoning for the earlier move, as given by BFUHS earlier was that the university had not revised the fee structure for many years, while giving a salary hike to the staff. Now, with the university moving away from central Neet examination and deciding to conduct its own examinations, hence application/prospectus fee has been hiked. In the duration of this academic year, there has also been many substantial increases in miscellanuous fee including degrees in absentia, obtaining confidential result, degree transcripts,etc.
Speaking to Medical Dialogues Team, Dr Gagandeep Shergil , Vice-President PCMS Association said, " Our stipend has not been increased for the last 7 years, and with the government hiking all the fees like this, is adding to pressure on the medical students. We have initiated a dialogues with the government in this regard."
The doctors are currently demanding that, if government is increasing the fees like this, then even stipend of doctors should also be increased. The current stipend at PG stands at Rs 43,000, Rs 45000, and Rs 47000 for 1st year, 2nd year, 3 year respectively. The doctors are demanding that this stipend should be increased to Rs 65,000, Rs 70,000 and Rs 75000 respectively
0 comment(s) on Punjab: Doctors oppose Medical Colleges hiking fees