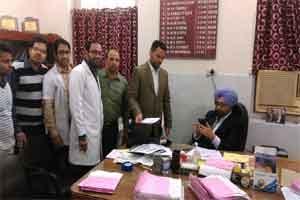 Patiala: Medical Students studying at the Medical Colleges in Punjab seem to be stretching themselves beyond their means. Over the period of one year, the University has increased the fees more than three times, causing many a students to grind their teeth.
In the year 2015, the government started by increasing the fee of Postgraduate courses from Rs 45,000 per annum to 1,50,00 per annum. Then came a hike in M.B.B.S fees from Rs 13,500 to Rs 90,000. Not only this the authorities have also revised the miscellaneous fees such as thesis as well as application and prospectus fees making it dearer for aspiring medical students to apply at the 8 colleges affiliated with the university.
The hike has not gone well with the doctors and medical students currently placed at the colleges who, under the banner of PCMS  have submitted a letter to the DMER opposing the fee hike .
Speaking to Medical Dialogues, Dr Gagandeep Siddhu, RDA President, GMC Patiala explained," The government has increased the fee almost 4 times at certain fronts, without paying heed to the fact, that our stipends are meagre compared to the fees. We have requested the DMER to look into the matter, either reducing the fees, or increasing the stipend of residents and medical students."
0 comment(s) on Punjab: Doctors raise fee issue with DMER